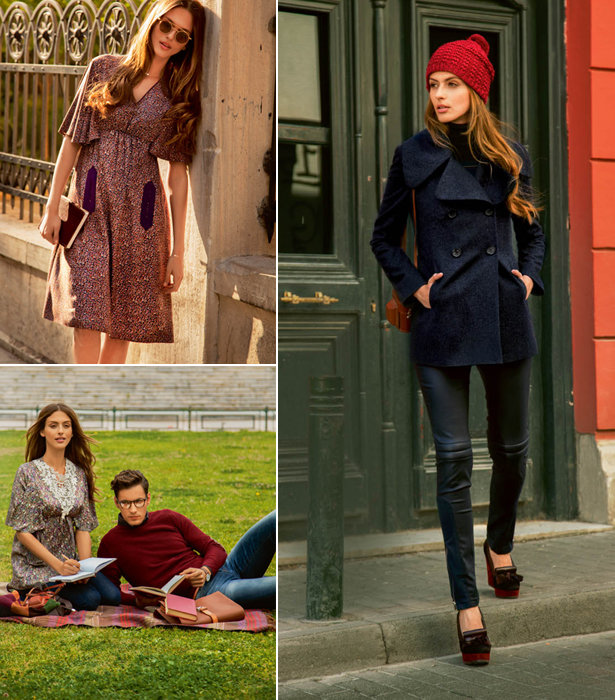 ShareThis
This new collection from the September 2015 issue of BurdaStyle gives us our first taste of fall! You will love the pea coat and cape for those first chilly days of the new season and we can't wait to sew up a few bohemian maxi dresses with long sleeves.
This '70s style pea coat features large lapels, hidden hip pockets and hits at about hip length. It's made in a wool fabric that's perfect for fall and winter. So chic with leather boots and a plaid scarf!

Italian Navy Wool Blended Coating; Italian Dark Teal Wool Blended Coating; 36L/23mm Italian Matte Black Rimmed 4-Hole Button
This mini flounce skirt is so flirty and fun! It's tight around the hips and then extends out into a flouncy and flowy mini skirt. Make it in a variety of fabric types and wear the style all year long!

Ralph Lauren American Made Red Cotton Knit Fleece; Red/Gray Striped Polyester-Rayon Rib Knit; 24L/15mm Italian Matte Black Rimmed 4-Hole Button
This sleeveless mini dress features a collar that you can choose to attach or detach, you can even choose to make it in a different color or wear with a different garment. It is buttoned in the cutout. The dress is sleeveless and if made in a thicker fabric would look great with tights and boots for fall.

Liberty of London Hazel Purple/Orange/Olive/Pink Silk-Cotton Voile; Liberty of London Speckle Red/Blue/Yellow Silk-Cotton Voile; Liberty of London Daydream Pink/Brown Silk-Cotton Voile
This flirty and feminine mini dress features ruffled details along the hem and sleeves as well as a keyhole cutout at the neckline.

Liberty of London Sandalwood Fluorite Green Silk-Cotton Voile; Silk Chiffon Paisley Print; Pacific Green Paisley Printed Corded Cotton Sateen
This '70s style bohemian maxi dress features long sleeves and a tie at the front with buttons from the waist up. It's simply gorgeous!

Purple Floral Printed Cotton Voile; Twilight Purple Floral Cotton Poplin Print; Marc Jacobs Maroon Floral Silk Faille
This batwing dress features large flowing sleeves that hit at the elbow and prominent front pockets that are equally stylish and convenient. You will also love the tie around the waist that accentuates the feminine figure.

Liberty of London Speckle Blue/Purple Floral Silk-Cotton Voile; Creole Pink Floral Cotton Embroidered On SIlk Chiffon; Silver/White Rhinestone Neck Applique
This beautiful batwing tunic is gathered at the waist and features a v-neckline. You can choose to add an additional crochet appliqué to the neckline to enhance the femininity of the garment.

Ralph Lauren Navy Stretch Polyester Fleece Knit; Rag & Bone Dark Navy Cotton Ponte; Brite Royal Blue Stretch Nylon-Rayon Ponte Roma
This short sleeve dress features a deep v-neckline and a wrap-like effect where the fabric is gathered at the side. It hits at about knee-length and is very tasteful and chic.

Rag & Bone Blue Wool Blended Woven; Navy Solid Coating; 36L/23mm Italian Gold Zamac Shank Back Button
This fashionable cape features a very high collar that has two decorative gold buttons . It's made in a royal blue wool fabric fit for a princess!

Black Reptile Print over Jacquard Woven; Rag & Bone Luminous Black Stretch Japanese Cotton Twill Blend; Theory Black Satin-Faced Stretch Cotton-Viscose Twill
These leather leggings feature stitching details at the knees and side seams of the pants near the ankles The close with a zipper in the back and are actually quite versatile pants to wear all winter long!

Liberty of London June's Meadow Red/White Silk-Cotton Voile; Liberty of London Beth's Flowers in Multicolor Silk-Cotton Voile; Liberty of London Daydream Purple/Blue Silk-Cotton Voile
While this long maxi dress might feel quite matronly it's actually very fun and bohemian when made in a lace or floral fabric. A typical high-necked peasant dress (country dress in Western style) is now in the trend-focus. The top with plastron is accented with piping. Wear with boots and you're good to go!
Happy Sewing!