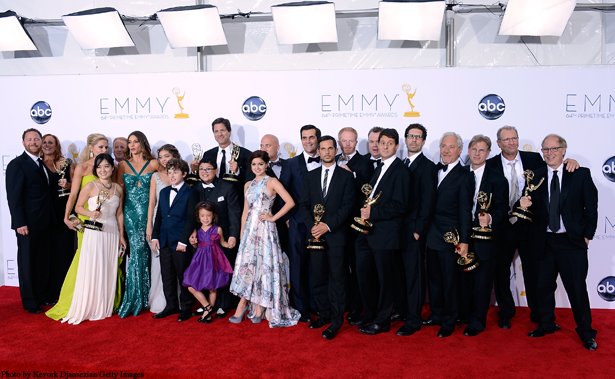 ShareThis
The 64th Annual Primetime Emmy Awards debuted last night, and all the television celebrities walked the red carpet with their best fashion foot forward. We have put together some of our favorite looks from the red carpet, and paired them with our patterns to show you how easy it is to get celebrity fashion DIY style!
All though Mad Men failed to bring home an Emmy last night, we saw a nod to retro style from some stars. We saw bright colors including yellow and blue, and lots of drapey details. Hemlines were mainly to the floor, but some celebrities chose to reveal their shoes. Take a look at some of our selections, and get inspired by these designer styles.
New girl Zooey Deschanel wore a lovely pale blue gown. We suggest making this Strapless Gown in a blue tulle for a Cinderella dress like Zooeys.
Claire Danes was a winner last night in more ways than one! This pregnant actress accepted her Emmy in this bright yellow dress. To get a similar relaxed fit sew this Two-piece Dress and lengthen the hemline to the floor. You can even omit the straps and sew an elastic at the top.
Kristen Wiig walks the red carpet in a shorter flowy gown. For an effortless look like Kristen's, make the Luisa Beccaria Dress .
Modern Family's little Aubrey Anderson-Emmons attended the awards in this adorable purple dress. For an equally cute princess look we suggest making the Collared Dress and sew the sash in a contrast color like Aubrey's.
Emmy Award winner Julia Louis-Dreyfus rocked this maroon dress! To get this fab look try sewing our Bustier Dress and lengthen the hemline to the floor. For the beautiful neckline, gather pieces of tulle or chiffon over the bust, and sew together at the shoulder, and into the waist seam.
This royal dress was worn by actress Jane Levy down the red carpet. We love the shoulder detail and the bright color! To achieve a similar style, you can make this Long Evening Dress .
Gretchen Mol wore red on the red carpet, and she still stands out! This gown has a lovely notched neckline that is also seen in our Dress with Cut Out Bustline . You can even omit the sleeves and bring the hem to the floor for a gown similar to Gretchen's.
We loved Emilia Clarke's purple and white dress with a mullet hemline. It is so simple to get this look! Try making the Dress with A-Line Skirt and gather a long rectangle into the waist seam, leaving an opening at the front.
Kelli Garner wore a nice and bright yellow dress. This strapy dress is similar to our Evening Gown .
Edie Falco debuted a futuristic look to the Emmys. We loved her style, and the seamlines in her dress. To get back to the future with Edie, try sewing the Scuba Dress and lengthen the hemline for an evening look.
Which one is your favorite red carpet look?
Did you agree with all the winners?