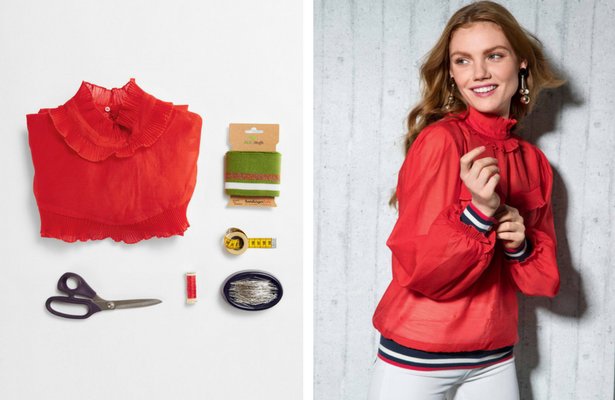 ShareThis
BRIGHT BANDS – Originally found only on blouson jackets and sweatshirts, sporty knit bands now appear on blouses and tops.

Sporty cuffs were spotted all over the runways and streets of NYC and Paris this season!



+ Blouse (store bought or handmade)
+ Knit band
+ Thread
+ Tape measure
+ Scissors
+ Straight pins



Step 1: First measure the circumference of your wrist (here 15.5 cm / 6 1/8").
Step 2: Cut two cuff pieces from knit band: length = wrist circumference plus 2 cm (3/4") for seam allowances (here 17.5 cm / 6 7/8").



Step 3: On blouse, trim off lower edge of each sleeve, either to width of knit band or to approx. half this width, as we did, so that lower sleeve edges will be puffed.
Step 4: Fold each cuff, right side facing in, and stitch narrow edges together with a serger/overlock machine. Attention! Make sure that the pins do not hit the knife.



Step 5: Divide cuff into equal fourths and mark with straight pins. First fold at seam and mark opposite fold with pin. Then fold so that seam and pin meet and mark folds with pins.
Step 6: Divide lower edge of sleeve into equal fourths in same manner. Pin cuff to sleeve at the marked fourths, right sides facing, stretching cuff as needed.



Step 7: Now stitch the cuff to the sleeve, stretched to match, then finish the edges with a serger or an overlock stitch.



FINISHED! Knit bands are available in many different colours – perfect for all types of blouses, jackets, and tops. Try making a blouse for yourself with the following patterns:



top left: Pleated Pink Blouse; top right: Ruffle Blouse; bottom left: Bow Neck Blouse; bottom right: Tie Neck Plus Size Blouse

This serger friendly DIY project is perfect for National Serger Month! If you didn't know, April is serger month and BabyLock is putting on Sip N Serge events all over the county to celebrate. Click here to learn more and contact to your local BabyLock dealer.