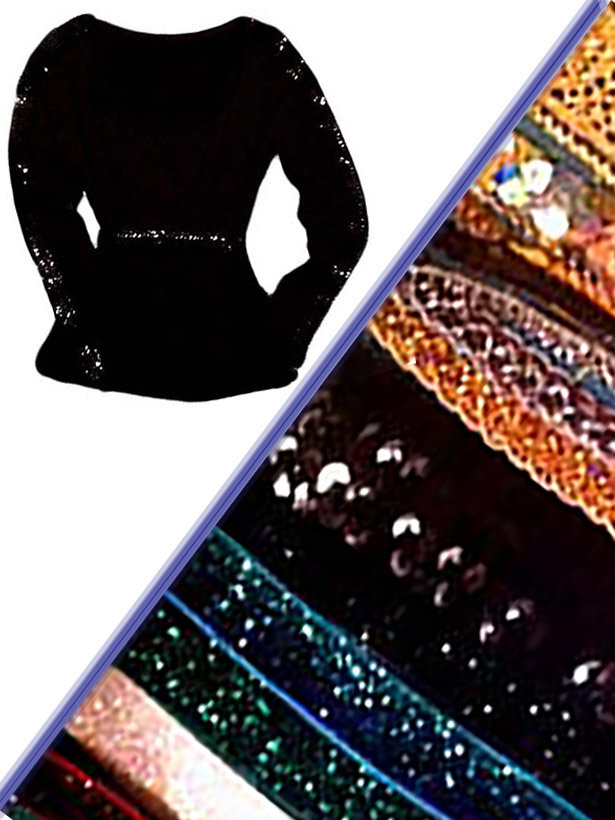 ShareThis
Doing some spring closet-cleaning? Revamp basic styles with these easy embellishments!
All you need is a few inches of trim to add some sparkle to your wardrobe! Pretty lace, ribbon, or sequins along a neckline, hem or sleeves can instantly glamourize a garment.
Rhinestones and beads are lovely too, but the idea of attaching gems one-by-one can be daunting. You can fasten trims in place with a few hand stitches, or even fusible tape. A sequin band along the arms of the simple long sleeve above creates a look thats both casual and sophisticated. Be sure to choose stretchy trims for knit garments when applying to places that require a lot of movement. (Like your arms!)
Sparkles are always hard to resist… so here are a few more fun embellishment ideas! Each of these mini-projects were sewn in a flash. A basic tank top gets the royal treatment with gorgeous gold-crown lace and a few added sequins. 3 braided strands of sparkles add a dazzling finish to a skirt waistband! And last but not least, glitter stretch ribbon lights up this open-back tee.

This uniquely decorated skirt is sure to turn heads. Safety pins along the hem of this skirt are unexpectedly stylish.

There are dozens of ways to add a little shimmer to your everyday style, even if sparkles aren't your thing. You can try out these enticing alternatives!
Happy Decorating!