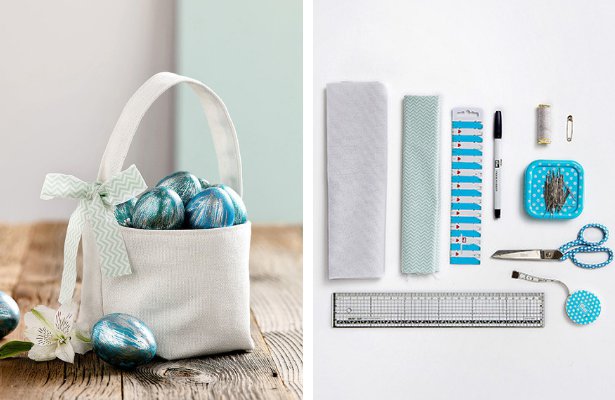 ShareThis
This fabric Easter basket not only looks pretty on the table, but is also suitable as a catch all for Easter gifts such as sweets and other small souvenirs.
Images: © Jan Schmiedel

MATERIALS:
+ Canvas fabric
+ Patterned cotton fabric
+ Ruler
+ Thread
+ Trick marker
+ Tape measure
+ Pins
+ Safety pin



Step 1: Canvas and cotton fabric: cut 25 × 36 cm (25 × 18 cm). Cut out 2 corners 6 cm wide and 5 cm high. Strap made of canvas: 25 × 18 cm (everything already includes seam allowance).
Step 2: Stitch side seams of canvas and cotton fabric at 1 cm on right sides together and press open seam allowances.



Step 3: Pinch each corner and pin. Stitch together at 1 cm and press.
Step 4: Fold strap tape in half lengthwise, right sides together, pin and stitch at 1 cm. Use the safety pins to turn to the right side of the fabric and press.



Step 5: Topstitch strap on both sides at about 3 mm.
Step 6: Pin the sewn strap right sides together with the bag's side seam. Baste in place.



Step 7: Now pin the cotton basket rights sides together with the canvas basket around the top edge with straps. Stitch together around the circle at 1cm leaving an opening of approx. 7 cm for turning.
Step 8: Turn the basket through the opening to the right side and stitch around at about 0.3 cm either by hand or machine.



FINISHED! Fill with all your Easter goodies from the Easter Bunny.



Want more Easter DIYS? Check out these ones here to make a Easter Bunny Bag and Stuffed Easter Bunny.
Happy Easter DIYing!