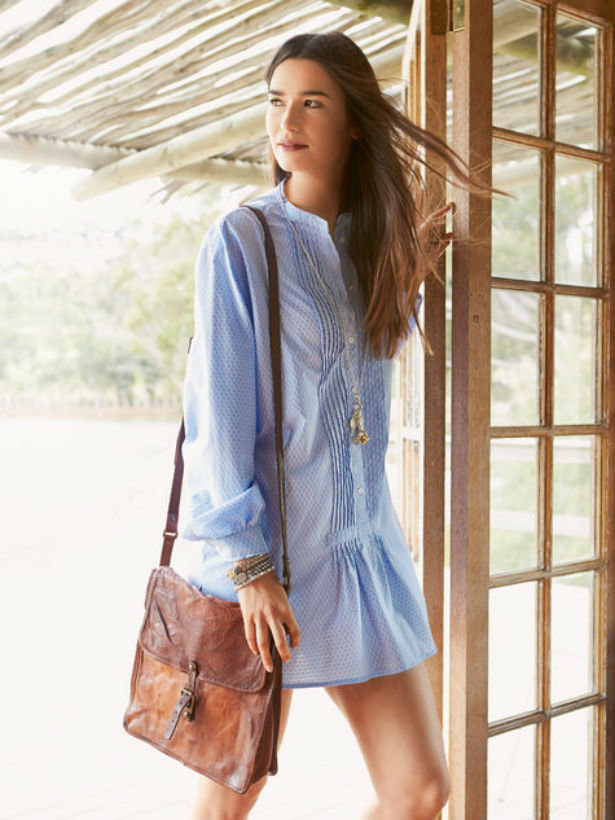 ShareThis
If your office has a dress code, or you wear a suit to work everyday, getting dressed every morning can be a sweaty experience! Unless you have the option of wearing a tank top and short-shorts, here are a few ways to beat the heat and still look professional.
Save the body-hugging garments for happy hour and spend your 9-5 in loose, flowy silhouettes that allow your skin to breathe. There's nothing worse than having to peel off sweaty, sticky clothing at the end of the day!
If you're wearing a suit, sew a jacket in a cool, lightweight fabric such as linen or a cotton twill. If the jacket requires lining, substitute traditional silky lining with a light cotton batiste or other fine woven fabric. A roomy fit will allow air to circulate and keep you cool. A jacket with short sleeves is even better!

Hip Length Blazer, White Jacket, Short Sleeve Jacket
Replace your tailored button-ups with collars and cuffs for breezy cotton blouses in the summertime.

Pintuck Tunic Dress, Wrap Blouse, Ruffle Blouse
When it comes to pants, look for styles with extra room around the legs and hips for maximum comfort. Again, choose lightweight natural fibres with patterns calling for woven fabrics, such as linen, cotton or silk. These fabrics are known for wicking sweat away from your skin, allowing excess moisture to evaporate quickly. Stretchy pants in a jersey or cotton knit are another comfortable option.

Jersey Elastic Pants, Cropped Harem Pants, Pocket Trousers
Dresses and skirts are likely the coolest option when it comes to office wear! A pretty, flowing skirt or a casual shirt dress are two fashionable and professional styles for work. If you'd prefer a sleeker fit, a wrap skirt will provide a little extra breathing room.

Wrap Skirt, Box Pleat Maxi, Shirt Dress
What's your favorite way to stay cool at the office?