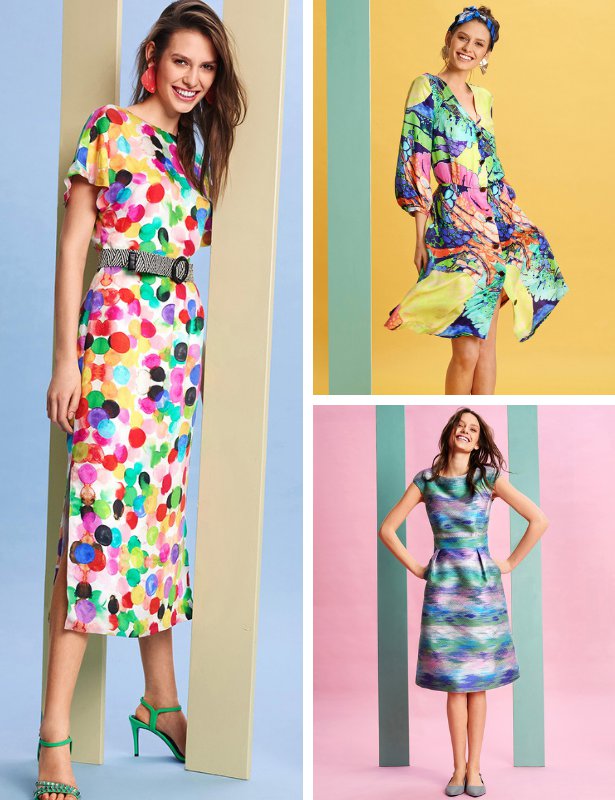 ShareThis
Elegant business styles, cheerful holiday styles and feminine 50s cuts from the 05/2019 issue of BurdaStyle magazine: Which ones are your favorite?

This delightful sheath dress is so feminine. It includes fun touches like slant pockets and a petersham band at the waistline. The darts at the front of the skirt panel are not fully stitched but drawn in along the waistline as
sophisticated pleats.



A choice that works in the warmest temps of the season, as well. The straight lines for this style are shaped with inlaid pleats at the neckline and an attached hem band. A slit in the middle of the back gives optimal freedom to move around.



A breezy look that slips on easily to have you quickly stylish in this dress with the high side slits. A softly draping viscose accentuates the integrated sleeves with an elegant cascade.



A style that works for all figure shapes to give a stunning and attention-grabbing look pulled from the 50s. The bodice wrap adds charm at the decolleté and the knotted detail on the belt adds a beautifully feminine finish.



This vibrant and brightly printed shirt dress is sure to put you in a great mood from the moment you put it on. A full-length button placket is classic and the relaxed width of the cropped sleeves is capped with narrow cuffs.



Do you have a relaxed shopping afternoon with a best friend planned? This comfortable dress with practical seam pockets doesn't feel restrictive and is also one that works for a day of walking in the city. If you like to have more definition at the waistline, simply wear a wide belt over the elastic.



This wrap dress is perfect for holiday travel thanks to an easy-care and practically wrinkle-free jersey fabric. Drawstring casings at the shoulder let you gather the overcut sleeves to your preference.



Whether you plan a stroll along the beach or a dinner at home, this wrap dress in a midi length with gathered shoulders can quickly be ready for any situation with an update of accessories.



Do you prefer the sophisticated trendy metallic jacquard look or perhaps an absolutely classic black crêpe? This dress with its overcut shoulders and slightly flared skirt panel is adaptable to a variety of fabric choices for a style that is just right for you.



An especially flattering look with the snug neckline band and the halter style is very flattering for smaller bustlines. This style is shown in a romantic print twill. The swinging skirt panel cascades softly around the hips.


Sew up ALL these dresses with the discounted pattern collection bundle here!