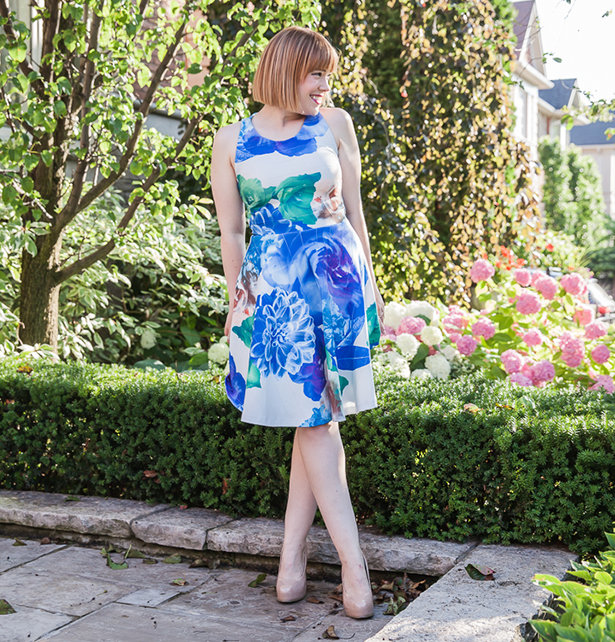 ShareThis
Have a special occasion coming up? Attending a wedding soon? You have time to make your own dress today even if your even is tomorrow! A fitted dress at that – read on to see how I made a dress in a day that fits great and looks like it was store bought.
I am going away to Europe for my cousin's wedding and I needed a dress to wear. I didn't have a lot of time to make one since I was also already altering my cousin's wedding dress and sewing up new travel friendly pieces as well. So I needed a dress that looked chic, fit great, and I could make in a day.

For the fabric I really had to first look at color and print since I already has purchase a evergreen colored tulle fascinator to wear. So It needed to match! I went to the fabric store first thing when it opened in the morning (I mean I only had 1 day to make!) and found this perfect digital printed ribbed knit. The green hints in the print perfectly match my head accessory.



Next was thread, and since ran home from the fabric store without picking any up (oops) I had to work with what I had. Good thing I had a spool of limegreen Coats & Clark Eloflex Thread that stretch with the fabric without breaking so I didn't have to use a slow sewing zig zag stitch to sew my knit fabric together.



Now for the pattern… I needed something that would show off the print and was a relatively easy sew. I didn't want it to be one of those boxy dress patterns that you make in an hour. I went with our newly published Racer Tank Pattern from the 07/2017 issue. It had a beautiful drape to the skirt and a nice structured top. This pattern isn't meant for a knit fabric per-say, but fabrics with or without elastane would work. So I cut a size smaller than I usually do to compensate the stretch.



The time is now 11:30am. I have been to the fabric store, printed the pattern, tiled together, added seam allowance, cut out of fabric, did my pattern markings, and fused my interfacing. Speed cutting tip: Don't use scissors to cut out your paper pattern or fabric! Use rotary cutters. I have two; one for paper and one for fabric. Using rotary cutters will drastically reduce preparation time before sewing.
The first sewing step was the sewing the darts in the front bust piece, and luckily these are the one two darts in the dress. 1. I don't like sewing darts and 2. They take too much time.



In the instructions it indicated another way to sew the combined facing, but I like this way better and it is neater and doesn't involve hand sewing which takes too much time. I placed my interfaced front neckline/armhole facing on my bodice right sides together and pinned along the neck and armholes. I sewed together ending 3/4" from the shoulder seams on both the neckline and armhole.



Then I took my four back pieces and sewed together the same way. Right sides together, and ending my seams 3/4" away from the shoulder seams on the side angular edge as well as the neckline.



View of my front facing seams.



Then I clipped and graded my seam allowances and flipped my facings to the wrong side. I understitched as far as I could along the neckline and armhole edges.



With both the front and the back flipped and finished, I pinned the shoulder of the main dress together and sewed at my seam allowance.



I then flipped through my facing and pushed through enough of my facing so that I could pin and sew the shoulder seams of the facings together.



Once the facing shoulder seams were sewn I shifted the tunnel that was create up enough so I could pin the shoulder seams together and sew the openings along the neckline and armholes right sides together. Once sewn I pushed back through the facing, pressed and now I have my combined facing installed. You can also see how to do this specific combined facing technique in our BurdaStyle Certification Course starting in September!



The time is now 1:00PM, and I'll admit I had a coffee break after sewing my facing. To finish of the angular back pieces, I sandwiched the top back piece with the other facing and the back bodice. Then I sewed together from center back to the side seam.



I clipped and graded the seam allowance of the back mid facing and sewed the side seams together from the base of the facings to the waist seam. I serge-finished each edge separately so I could press the seam allowances open.



Speed sewing tip: Pick a dress pattern with a waist seam and a skirt that is A line with no gathers or pleats! You will get the fullness without the time of gathering or pleating a rectangle piece of fabric to fit. It will use a but more fabric, but save a lot time and reduce bulk at the seam.
I sewed together my skirt side seams and attached to the bodice along the waist. I serge-finished all the allowances together and pressed up.



The pattern called for a back zipper, but I didn't want to sew one in and since my fabric was super stretchy and the neckline opening was large I instead sewed the center back seam together. I then topstitching on either side using my coverstitch machine.



It was now time for the hem, and since this was a knit fabric I used my cover stitch machine again and beautifully finished the bottom edge of my dress. If you don't have a cover stitch machine you can easily use your regular sewing machine with stretchy thread or a wide zig-zag stitch.



To keep the front facing from rolling outwards I fused some double sided fusible tape to keep it in place. I sandwiched it in between the wrong side of the facing and bodice as close to the serged edge as I could using a low iron temperature.



Then lastly at the side seams I broke out my hand sewing needle and tacked the facing edges to the side seam allowances.
The time is now 3:00PM and my dress is FINISHED! From 1:00 – 3:00 PM I did take some time to slip on and try on the dress in between steps to make sure I wasn't spending my time finishing a dress that doesn't fit. I did end up having to take in the bust 1" or so.



I'm very excited for my trip and to wear this dress! Since it is knit, it is nice and comfortable and will make it easy for my to bust a move on the dance floor.


These were my main time saving tips on sewing this dress in a day (more like 1/2 a day):
+ Use knit fabric
+ Pick a pattern with little seams, and fullness that is created by an A line silhouette
+ Sewing with stretch thread on my regular machine, zig zag and stretch stitches can be slow moving
+ Cutting out with rotary cutters
+ No zipper! Stretchy fabric and seams = pulling over the body without needing a closure
+ Picking a fun vibrant print/ fabric so your dress looks amazing while the construction details take a back seat.
Here are some other suitable dress in a day sewing patterns:
1. Lace Overlay Dress
2. One Shoulder Dress
3. Flowy Maxi Dress
4. Raglan Sleeve Dress
Happy Sewing!
Meg
Have you made a dress in a day? Share your dress in a day projects here.