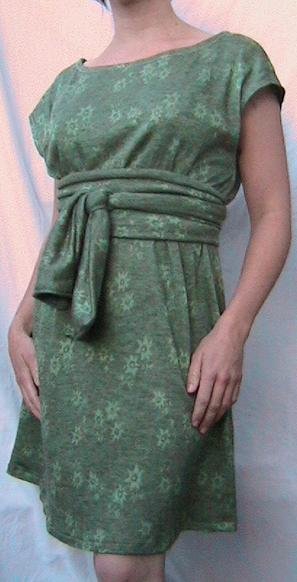 ShareThis
Making from recycled fabrics is proving to be hard work sometimes. As i have mentioned before i want to recycle to save money and be more environmentally friendly but when you have a project in mind, like i did this week, it can sometimes be difficult to find a recycled fabric that will suit and buying new is very tempting. My project this week has been the new pattern Anda, such a fabulous dress and a dress i so much wanted to make but did not have the required fabric type in my recycled stash.
The pattern calls for linen, viscose-rayons or crepe. I was expecting to have to make a trip out to scour the thrift stores, which to be honest i really didn't have the time for this week (i had a birthday to celebrate and a massage to enjoy!), when i received an email from a blogging friend: She had been clearing out her stash and came up with a pile of fabrics that she no longer wanted and thought i may make some use of them. Are you kidding me? Of course i can! She popped them in the post and they arrived a few days ago. So, now there was no need to go out or to spend any money because amongst them was a piece of green knit jersey, roughly a metre in length. I decided that even though it wasn't the recommended fabric for Anda i thought it could be a good replacement. It could give the dress a more casual day look, which with my lifestyle i need a lot more than a dress for a night out.
Due to the size of the piece of fabric and a small mark i needed to shorten the dress. I changed the pattern slightly to suit my fabric by twin top stitching the neck and armhole edges using a twin needle. I also used the leftover strip of fabric with the mark hiding the mark on the underside, to make a belt as an alternative to adding casings and ties therefore using up the whole piece of fabric.
Although i am happy with how it turned out i would have liked to have made the dress smaller, i did use the smallest size on the pattern (38) but i feel the dress gapes a little too much at the armholes. Shortening the dress worked out well though as i'm only 5' 2', i think i took off around 4 or 5 inches in total and it seems to be the perfect length.
It amazes me how thoughtful people can be, not only did i gain new-to-me fabrics from this fellow blogger but she also helped me to save money and the fabric was put to good use.
You can see more details of how i made Anda in this How To.
My current project is Emily but i would also like to get you, the readers involved in my projects. I'd like for you to choose what i make next from these patterns, leave a comment and once a pattern has been chosen i shall then document my adventures here. This should be interesting!
Former columns of NikkiShell: Finding Recycled Fabrics and Franzi Vest Made from Thrift Store Skirts.