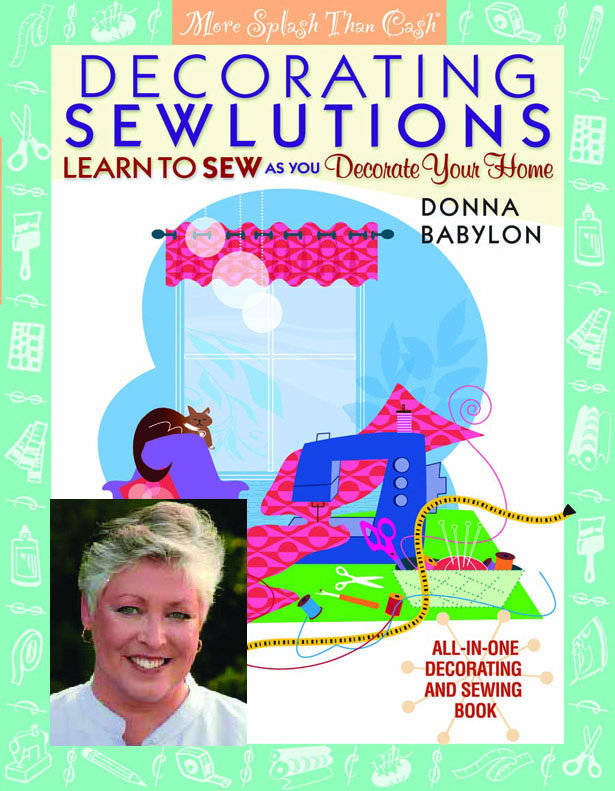 ShareThis
I am so excited to be a guest blogger at BurdaStyle. I met Carol and Alden in California where I was promoting my new book, Decorating Sewlutions. I mentioned to them that April is National Decorating Month and we decided that it was the perfect time to do some home dec sewing!
For those of you that don't know me, I'd like to introduce myself. My name is Donna Babylon and I specialize in writing and publishing how-to home decorating books and patterns under my brand More Splash Than Cash®. My fifteenth book, Decorating Sewlutions, just hit the bookshelves. My private line of home decorating sewing patterns is called RoomMates™.
I really enjoy all aspects of bringing a how-to product to life. As a one-woman company, I design and make all of the projects that are featured in my patterns and books. This gives you an important benefit: If I run into a pitfall while creating the project, I work it out prior to publication and the instructions are written accordingly so you will never even know a problem was lurching!
About my brand, More Splash Than Cash… MSTC doesn't mean cheap. It means that the cash you spend and time you invest—whatever amount that may be—is well spent so the resulting project will be enjoyed for years to come (or until you get bored with it)!
Now, why do I think sewing for the home is so exciting? The cost-savings alone can be reason enough! But when you create your home furnishings, you are not limited to the colors and styles of mass-produced ready-made items that you (and everyone else) can buy. In fact, you are virtually guaranteed that your item will be one-of-a-kind. You'll never have to worry about walking into your neighbor's home and having to say, "Oh, I have those exact same curtains (or duvet cover, or pillows)." You can change your mind, your mood, and your décor on a whim—all because you sew!
Next: Your Signature Decorating Style
Donna Babylon's enthusiasm for teaching sewing and decorating is unmistakable through her many books, patterns, television appearances, and seminars. She formed her own indie publishing company because she wanted total control of her destiny (and she hated attending 8 a. m. meetings). She publishes books and patterns under her brand, More Splash Than Cash®. Her latest book, Decorating Sewlutions, is an all-in-one sewing and decorating book that focuses on three basic sewing techniques to create over 100 items for the home. Visit her at MoreSplashThanCash.com.