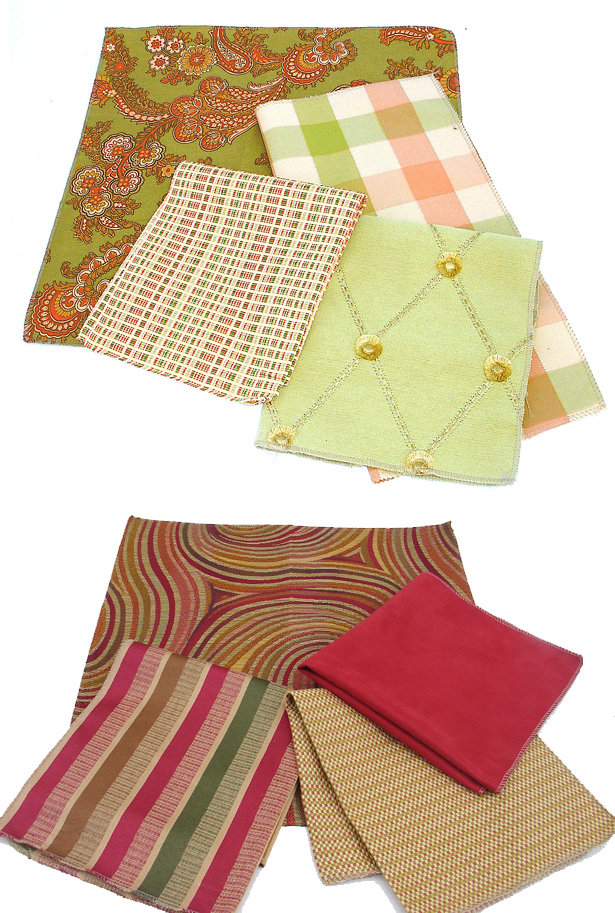 ShareThis
Choosing fabrics is one of the most creative aspects of decorating. Want to combine fabrics like the designers do? Think of it this way. Decorating a room is much the same process as making a movie. When casting a movie, actors are carefully selected to create the perfect ensemble. Fabrics are like actors playing a role; each is carefully considered for what it brings to the project. Basically, a room can be beautifully put together if you choose one star fabric, one or two "supporting cast" fabrics and a "special appearance" or accent fabric.
Here are some more tips:
• Begin by walking through the aisles of a fabric store, looking for a fabric to fall in love with. When you find the one (you'll just know it), this fabric becomes your star fabric, what I call your "road map" for all of your future decorating decisions. You may have also heard the terms "inspiration fabric," or "key fabric," which means the same. This road-map fabric will be the predominant fabric in the room (use it at least three times).
• For an interesting fabric combination, vary the style and scale of the fabric designs—do not choose all plaids, florals, or geometrics. Instead, mix the fabric choices to include large, small, or medium prints and geometric designs (checks, plaids, circles, dots, or stripes).
• All colors in the "road map" fabric do not have to be in the coordinating fabrics. However, the fabrics should be united by at least three of the most dominant colors. Also, pay attention to the background colors (also referred to as the "ground" color) as they, too, need to blend. For example, if you're using fabrics with the same background color, such as an off-white, make sure the off-whites match.
• When selecting prints, be aware of any existing architectural patterns in your room like tiled or parquet floors, circular windows, or arched doors. All of these elements have a definite pattern that will need to blend with any additional patterns you introduce.
• Also consider the texture of the fabric—both visual and tactile. Visual texture is interesting to look at, whereas tactile texture is what you can actually feel with your hand. Fabric choices contribute to both tactile and visual texture. Some fabrics with interesting textures include faux suede, silk, chenille, linen, velvet, jacquard, and chintz.
• When introducing the accent color, keep it from becoming an accident by using it at least three times in the room. The accent color does not have to be just fabric; it could include the color of the trim on a pillow, the color of a vase of flowers, even the mat used in a picture frame.
Next: An Easy-Peasy Project from Decorating Sewlutions
Donna Babylon's enthusiasm for teaching sewing and decorating is unmistakable through her many books, patterns, television appearances, and seminars. She formed her own indie publishing company because she wanted total control of her destiny (and she hated attending 8 a. m. meetings). She publishes books and patterns under her brand, More Splash Than Cash®. Her latest book, Decorating Sewlutions, is an all-in-one sewing and decorating book that focuses on three basic sewing techniques to create over 100 items for the home. Visit her at MoreSplashThanCash.com.