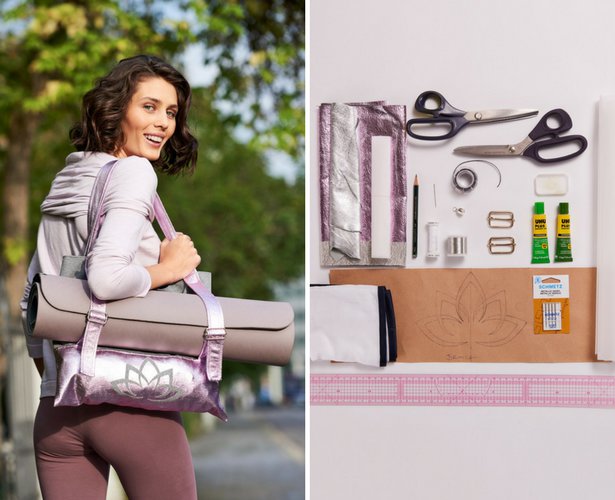 ShareThis
Keep calm. This yoga bag of glittering fabric will easily hold your mat, clothing, and towel. Adjustable straps hold your yoga mat in place on the outer side of the bag as well! Read on to see how to make…

MATERIALS:
+ Reversible fabric
+ Fusible web
+ Thread
+ Pressing cloth
+ Scissors
+ Pinking shears
+ Straight pins
+ Pencil
+ Tracing paper
+ Machine needles for metallics
+ Ruler
+ Metal buckles
+ Pattern template (download here for free)



Cut the following fabric pieces: 2 bag sides, 25 × 50 cm; 1 bag base, 30 × 45 cm. Straps: 2 pieces, 105 × 4 cm; 4 pieces, 14 × 4 cm; 2 pieces, 126 × 4 cm. All incl. 1 cm seam allowances.



For the lotus flower, cut a piece of fabric, approx. 20 × 13 cm. Iron fusible web to the metallic side, using a pressing cloth as shown here.



Trace the lotus flower pattern onto tracing paper, then transfer to the fusible web. Cut out lotus flower piece.



Place lotus flower in centre of metallic side of base piece and iron in place. With metallic thread and closely spaced zigzag stitches, stitch along all edges of flower.



Straps: Lay pairs of strap pieces together, metallic sides facing. Stitch 1 cm from long edges. Turn right side out.



Topstitch 0.5 cm from long edges of each strap piece.



Run each shorter strap piece through a metal buckle, fold strap end to wrong side, and stitch in place.



Stitch bag sides (grey on outer side) to bag base (metallic on outer side), catching straps in seams – both shorter straps with buckles on front and the 105 cm long strap on back.



Turn both ends of longest strap (126 cm) to wrong side and stitch in place. Run ends through buckles. Lay strap on bag. Stitch each half in place, close to upper bag edge, also stitching crosswise for strength.



Stitch side seams of bag. On upper edge, fold 6 cm to inside, as facing, and stitch in place, 0.5 cm from facing edge. Trim all seam allowances with pinking shears or finish edges with a serger.



You can chose to appliqué the loutus flower or not depending on your preference, if you do, you can download the template for free here! This bag is the ultimate yoga bag that holds everything you need to get to class in style.



Complete your yoga look with your own handmade yoga clothes! Check out our Yoga Retreat pattern collection here and also visit the Burda blog next weel for a brand new yoga wear collection from the 01/2018 issue of BurdaStyle magazine.


Happy New Year!