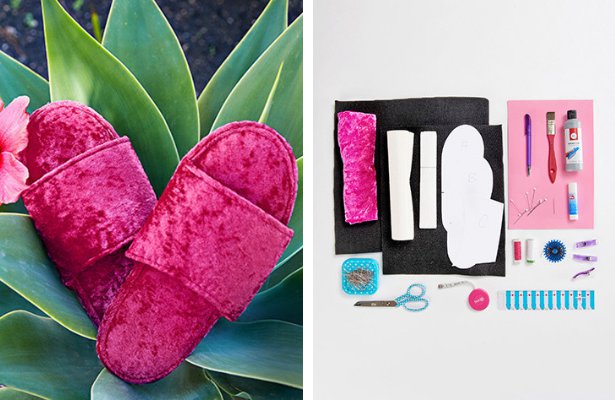 ShareThis
These beauties accompany us with style on trips around the globe – and they hardly take up any space in our suitcases. Of course, the slippers in bright pink are also great for home use, as they are also non-slip thanks to the nubbly latex on the bottom, and the cuddly velvet has our feet feeling cozy and comfortable. Read on to see how to make…
Photos: © Jan Schmiedel

MATERIALS:
+ Velvet
+ Thread
+ Felt
+ Liquid latex
+ Foam rubber
+ Decovil I Vlieseline
+ Style Vil Vlieseline (foam roll)
+ Clips
+ Scissors
+ Pins
+ Plastic headed pins
+ Pattern template (download here for free)



Step 1: Cut small sole without seam allowance from Decovil, iron to the wrong side of the velvet fabric and cut with 2 cm seam allowance. Stitch around the curved edges by hand and pull in around Decovil and set aside.
Step 2: Also cut out the large sole from Decovil and iron on velvet. Cut the sole again from Style-Vil (foam) and fasten it by hand on the Decovil sole.



Step 3: Stitch and pull in basting threads to evenly ease around the edges so that the seam allowance lays inwards. Mark the flap placement with plastic head pins.
Step 4: Cut flap with 2 cm extra on right and left for seam allowances, and iron on Style-Vil and to the wrong side of the velvet. Add 2 cm seam allowance to the velvet at the top and bottom and sew inside by hand.



Step 5: Cut the flap again with 2 cm seam allowances out of the velvet, iron in the seam allowance, pin it from the wrong side of the flap in step 4 and sew all around.
Step 6: Clamp the large and small soles together on one side, insert the flap 2 cm in on one side and stitch around. Caution: leave an opening for the flap on the other side.



Step 7: Now put the flap 2 cm into the opening and sew it by hand.
Step 8: Cut out a large felt sole and press it against the slipper from the bottom. Sew all by hand with thread.



Step 9: Lastly, coat the sole with sole latex glue or emboss with sponge rubber and let dry. Repeat all steps for the other slipper.
FINISHED! Complete your indoor look with these loungewear patterns below:



top left: Negligé; top right: Plus Size Bottoms; bottom left: Bra and Knickers Set; bottom right: Robe

Happy DIYing!