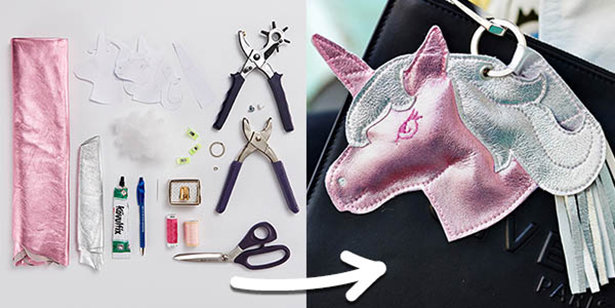 ShareThis
Turn this magical creature into a key tag that you can put on your bag or attach your keys to. Use up scrap pieces of leather or fabric to bring this project to life! Download the free template to get started and see below for the tutorial.
Materials:
• Leather (pink and silver)
• Template (download here for free)
• Filling
• Pen
• Thread both regular and extra strong
• Thimble
• Clips (get them here)
• Sewing needle
• Shears
• Punch and eye
• Eyelet
• Leather glue
• Key ring
Step 1- Stencil outlines on the leather…
Step 2- … and cut out.
Step 3- Cut the nose hole with the punch.
Step 4- Nose hole with silver-colored leather underneath.
Step 5- Transfer the eye to the leather with the pencil and hand-knit by hand.
Step 6- Place the mane on the front part.
Step 7- Then glue the front and back parts together…
Step 8- …leave an opening for the filling wool. Fill unicorn with filling wool.
Step 9- Sew the contours and seams as per the original with the machine. For leather, it is advisable to choose a large stitch (at least stitch length 3).
Step 10- Hole for the eye …
Step 11- … and the loop. Insert the eyelet with the eyelet and pull through the key ring.
Step 12- Cut tail from leather and cut fringes. Then coat the middle part with a leather glue.
Step 13- Place the tail around the key ring, squeeze it together and squeeze it tightly.
And finished is the great metallic unicorn! Looks great added to the outside of a bag.