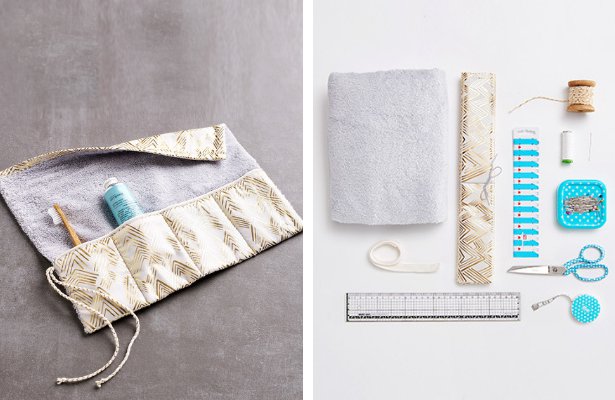 ShareThis
Rolling forward – washable and compact, this modern beauty roll-up is perfect for on-the-go! Thanks to terry cloth and cotton, this travel case is easily washable.
Images: © Jan Schmiedel

MATERIALS:
+ Terry cloth
+ Coated cotton
+ Thread
+ Piping
+ Ruler
+ Cording
+ Sewing needle
+ Sewing pins
+ Small ruler
+ Scissors
+ Measuring tape



Step 1: Pieces to cut: Cotton (including seam allowances): 46 × 37 cm/18 1/4″ × 14 1/2"; Terry cloth: 45 × 37 cm/17 3/4″ × 14 1/2"
Step 2: Pin the top of the terry cloth and the cotton right sides together and stitch 1 cm/ 3/8" in allowance. Turn to the right side, press seam allowances toward the cotton and stitch close to the edge.



Step 3: Pin the piping along the other side of the fabric, pin the terry cloth against it and stitch using a narrow sewing machine foot.
Step 4: Sew both side seams with a 1 cm/ 3/8" in allowance, leaving an opening on one lower side of approx. 6 cm/2 1/2" for turning. Trim the corners carefully, turn to right sides out.



Step 5: Press well and sew the opening closed by hand. Stitch in the ditch from the right side of the fabric along the upper edge.
Step 6: Stitch the lower edge along the piping close to the edge.



Step 7: Wrap the lower edge 12 cm/4 3/4" toward the top and close both sides by hand, securing the band folded in half into the left side (approx. 60 cm/23 1/2").
Step 8: Determine your personal sizes to fit your supplies and stitch from the right side of the fabric for each section.



FINISHED! This case keeps all your beauty tools nicely organized, safe, and also protects your clothes from make up dust from your brushes.
Need more travel friendly products? Try these DIYS below too:



top left: Coin Purse; top right: Cosmetic Bag; bottom left: Shoe Bags; bottom right: Jewelry Organizer


Happy travel DIYing!