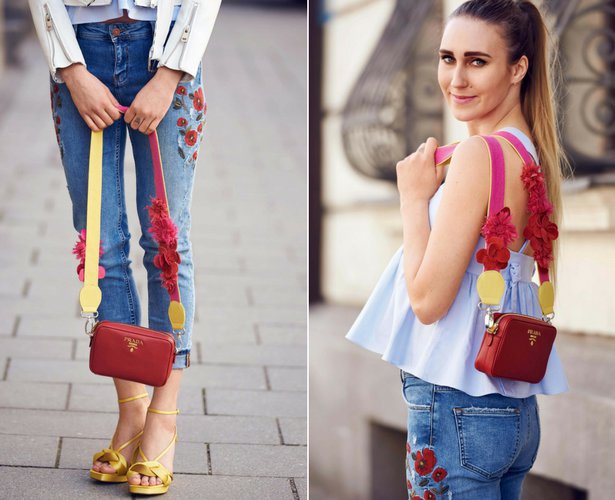 ShareThis
"It"-bags are passé. Now "It"-straps are the thing. Bright and colourful, they instantly give bags that special something.

The flowers can also be attached with safety pins, then easily changed, depending on the styling. If you like it sportier, use striped webbing and omit the flowers.



- Fabric/leather
- Fusible web
- Decovil (Vilene)
- Webbing
- Scissors
- Needle
- Leather glue
- Chalk
- Tape measure
- Ruler
- Pencil
- Clips
- 2 snap hooks
- Thread
- Templates (download here)



For the leather flower, cut one strip each of leather and fabric, each 3.5 × 35 cm (1 3/8″ × 14″). Adhere strips together, with fusible web.



Draw around template B along the entire length of the strip. Cut along marked lines and gather the straight edge. Repeat steps 1 and 2 as often as desired.



Fabric flower: Cut a fabric strip, 7 × 35 cm (2 3/4″ × 14″). Press strip in half lengthwise. Draw around template C and cut out. Gather straight edge.



Cut leather strap, 95 × 5.5 cm (38″ × 2 1/4"). Fold each long edge to wrong side, 1 cm (3/8") wide, and glue in place.



With template A, cut 2 pieces of Decovil. Iron to wrong side of leather. Cut out each piece, adding approx. 3 mm (1/8") wide seam allowances.



Clip webbing to wrong side of strap and edge-stitch long edges in place.



Run each piece A through a snap hook and fold in half. Slide end of strap between leather layers. Edge-stitch closed. Sew flowers in place by hand.



To create a harmonious whole, at least one colour on the strap should match the bag – with the exception of black or white.



Sew several different straps, to give your bag a new look every day!