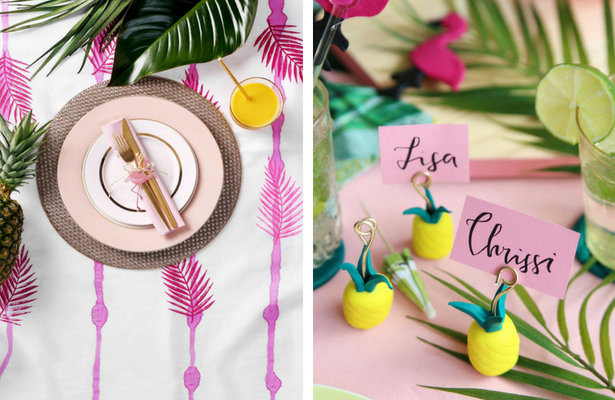 ShareThis
It's so easy to bring the summer into the house! These deco ideas brings the summer feeling onto the table in any weather, and the pineapple place card holder has us wanted to plan a party.
Let's kick it off with the table cloth – since you need somewhere to place your adorable placeholders on…

+ Linen fabric (desired table cloth size)
+ Textile dye
+ Screen printing stencil (desired shape) – you can find at your local craft store!
+ Textile paint (we did pink!)
+ Squeegee
+ Cardboard
+ Syringe
+ Bowl
+ Gloves



Step 1: Mix the textile dye according to instructions, and draw vertical lines with the syringe and allow to dry. Use the cardboard as a base.
Step 2: Position the template, apply color (pink or neon pink) to the top of the design.



Step 3: Pull the paint down with the squeegee until the whole template is covered with paint.
Step 4: Carefully peel off the template immediately afterwards and clean it with water. It can be used as often as you like. Let the paint dry.



Finished! You could even use different textiles colors and a mix of different design motifs of flowers and other leaves.



+ FIMO soft in emerald and lime colors
+ Rolling pin
+ Vegetable cutter with cutting grid
+ Craft wire
+ Jewelry pliers
+ Knife
+ Place cards
+ Calligraphy pen



Step 1: Make a ball out of half of the yellow FIMO block.
Step 2: Roll the ball so that it gets the shape of a cylinder – pineapple like.



Step 3: Then roll the pineapple diagonally across the vegetable cutter until it takes on the grid pattern.
Step 4: Use the pliers to cut off a piece of wire about 15 cm long.



Step 5: Twist one end of the wire 2 times with the pliers.
Step 6: Push the wire into the pineapple from the top.



Step 7: Roll out the green FIMO with the rolling pin, and use the knife to cut out three triangles. Place these around the wire on the pineapple and bend slightly outwards
Step 8: Finally, harden the pineapple for 30 minutes at 110 ° C in the oven. Label place card with calligraphy pen and place between curled wires.



Finished! You could even use use these as picture frames and give away as part favors.
Who's ready for a summer party?
Happy DIYing!