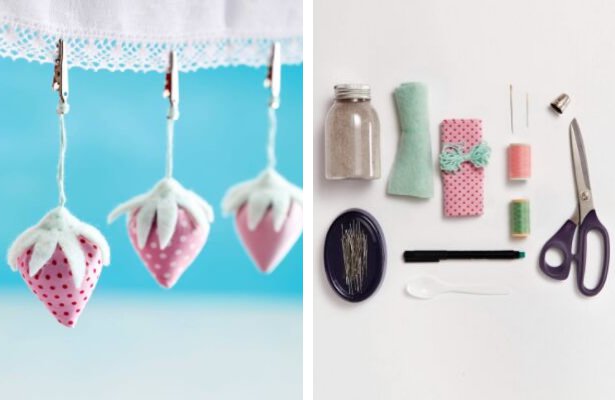 ShareThis
Sugar-sweet strawberries are in season! They are cute as a coaster, print on a tablecloth, finely painted on plates, frozen as ice in water and here as enchanting felt berries that act as weights for your tablecloth. These are perfect for your next garden or tea party on a windy day to make sure everything stays on the table!
MATERIALS:
+ Green felt
+ Pink cotton
+ Green wool
+ Thread
+ Hand sewing needle
+ Scissors
+ Thimble
+ Pins
+ Alligator clips
+ And
+ Spoon
+Yarn
+ Pen
+ Template (download here for free)



Step 1: Cut out pattern pieces.
Step 2: Fold the half-circle in half and stitch together from edge to fold. Round off the lower tip slightly and flip to the right side.



Step 3: Using a hand sewing needle, sew a basting stitch around the top circular opening and slightly pull in to gather (leave the hand sewing needle attached to thread).
Step 4: Then fill the strawberry with sand using a spoon.



Step 5: Then tighten the basting stitches and knot the end of the thread well.
Step 6: Secure yarn at the top as a pendant with hand sewing.



Step 7: Wrap strawberry with felt and sew it tight along the opening by hand. Finally knot strawberry pendant to the Alligator clip.
FINISHED! Sew as many as you wish and clip to the bottom of your outdoor tablecloth. Want more handmade decor ideas for your outdoor summer party? Check out these below:



top left: Upcycle Glass Jars into Glam Yogurt Cups!; top right: DIY Lanterns; bottom left: Dip-Dye Ombré; bottom right: Pineapple Place Card Holders

Happy DIYing and summer partying!