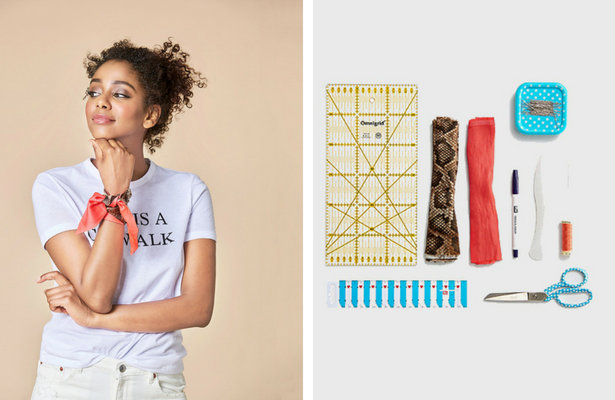 ShareThis
Whether as a scarf, arm or bag jewelry: Small silk scarves in a pattern mix may now be missing in any outfit. We show you here in this tutorial how to step-by-step make this versatile fashion accessory. Whether you wear it in your hair, on your wrist, or tied to your bag – this small silk scarf packs a stylish punch to your attire.

These little silk scarves are seen all over the fashionable streets of Paris worn as wrist ties and purse accessories.



+ Silk in different designs
+ Yarn
+ Patchwork ruler
+ Beveler
+ Fabric marking pen
+ Scissors
+ Pins
+ Hand sewing needle
+ Sewing machine
+ Point turner
+ Thread



Step 1: Cut one strip of fabric (83 × 12 cm) out of the two silk fabrics. The seam allowance is already included here!
Step 2: Place both strips of fabric together right to right. Be careful, the silk is very delicate.



Step 3: Beveling corners: Mark 1 cm seam allowance on the short side and draw an oblique line approx. 6.5 cm away from it. Repeat mirror-inverted on the other short side.
Step 4: Stitch around at 1 cm with a small stitch length. Leave an opening of approx. 7 cm on one side in the middle and sew the ends well. Here the cloth is turned later.



Step 5: Carefully cut back seam allowances and all four corners.
Step 6: Then the cloth is turned to the right side.



Step 7: Carefully work all corners with an edge former.
Step 8: Now iron the cloth flat. If necessary, use a pressing cloth.



Step 9: Finally close the turning opening by hand.
FINISHED: Tie around your wrist or your favorite purse for a pop of color!
Happy DIYing!