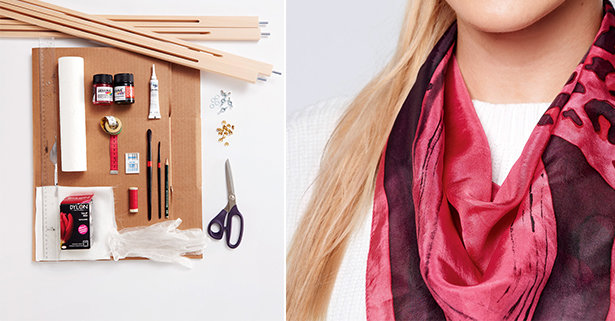 ShareThis
Wear silk scarves around your neck, tied to your bag and it instantly elevate your outfit. You can easily make your own using a piece of scrap silk and some fabric dyes. It will be truly unique and one of a kind.

Here is what you'll need…


Materials:
• Clamping frame
• Contours and silk colors
• Textile dye
• Silk fabric
• Ruler
• Measuring tape
• Gloves
• Yarn
• Brush
• Cardboard
• Kitchen roll
• Jersey sewing needle
• Shears
• Pencil
• Push pins
Step 1- Cut silk to 80 × 80 cm and dye with textile color according to instructions on the package in the washing machine.
Step 2- Place the silk on the frame: start at the corners, pull crosswise and fasten approximately every 8 cm with push pins.
Step 3- Draw desired motifs with pencil on the fabric…
Step 4- … and go over the motifs with contouring agent, then leave to dry. The lines must not have any interruption – they later limit the color flow.
Step 5- Paint motif surfaces with silk paint.
Step 6- Carefully rub the brush on the edge of the agent to not take as much ink.
Step 7- Use red color to set the pattern as a contrast – the color may / should be the color.
Step 8- For the effective lines, paint the edge of the ruler with color …
Step 9- … and press it to the silk. Let dry.
Step 10- Wipe the fabric to fix the paint. Then rinse under warm water, then iron again from the left.
Step 11- Edges curl up and with the sewing machine sewing or rolled seam sew by hand.