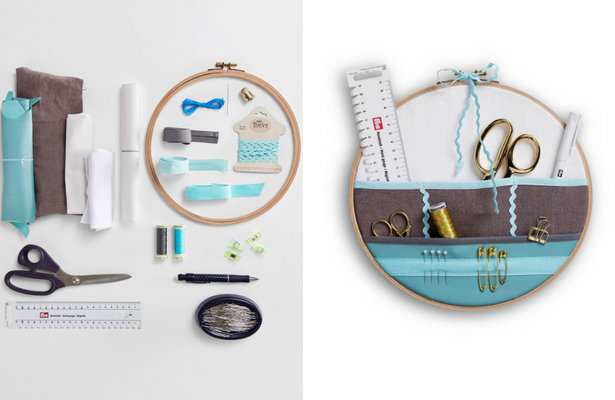 ShareThis
Organization is an art… and this organizer for sewing supplies is both pretty and practical. Hang it near your sewing machine so your needed tools are right in your arm's reach so you can get your project done quicker!

+ Linen fabrics in white and grey
+ Mint green leather
+ White cotton fabric
+ Fusible web (Vilene/Pellon)
+ Embroidery hoop
+ Straight pins
+ Chalk pencil
+ Ruler
+ Needle
+ Scissors
+ Thread
+ Clips
+ Thimble
+ Heavy thread
+ Cotton bias tape
+ Woven ribbon
+ Rickrack



Step 1: Draw the inner circumference of the embroidery hoop on tissue paper.
Step 2: Draw the horizontal lines for the pockets 15 cm and 9 cm (6" and 3 1/2") from the lower edge.



Step 3: Make 3 pattern pieces: large circle (white linen), 3/4 of the circle (grey linen), and 1/4 of the circle (leather). On all pattern pieces, add 3 cm (1 1/4") wide seam allowances to outer curved edges.
Step 4: Iron fusible web to wrong side of leather.



Step 5: Cut leather piece.
Step 6: Iron white cotton fabric to wrong side of leather piece, to stabilize it.



Step 7: Lay folded bias tape over upper edge of leather piece, clip it in place, then edgestitch it in place.
Step 8: Pin woven ribbon to leather piece, approx. 3 cm (1 1/4") below upper edge. Edgestitch both edges of ribbon in place



Step 9: Cut the 3/4-circle from grey linen fabric. Pin two vertical lines of rickrack to linen piece. Bind upper edge of linen piece with bias tape.
Step 10: Bind upper edge of linen piece with bias tape.



Step 11: Pin grey linen piece to white linen circle. If desired, stabilize the linen circle with fusible web and cotton fabric. Stitch along the pieces of rickrack, thereby forming small pockets.
Step 12: Clip the leather piece to the linen pieces.



Step 13: Stitch through all layers, 0.5 cm (3/16") from the edge all around.
Step 14: Stretch pieces tautly in the embroidery hoop.



Step 15: Finally, on the back, hand baste through the extending allowances and gather them slightly together. Knot the gathering thread securely.
FINISHED! This organizer can be varied as you like, with different fabrics and to fit your needs.
Want more organization? Check out these below DIYs for a Origami Pencil Holder and Scissor Holder and Protector.



Happy DIYing!