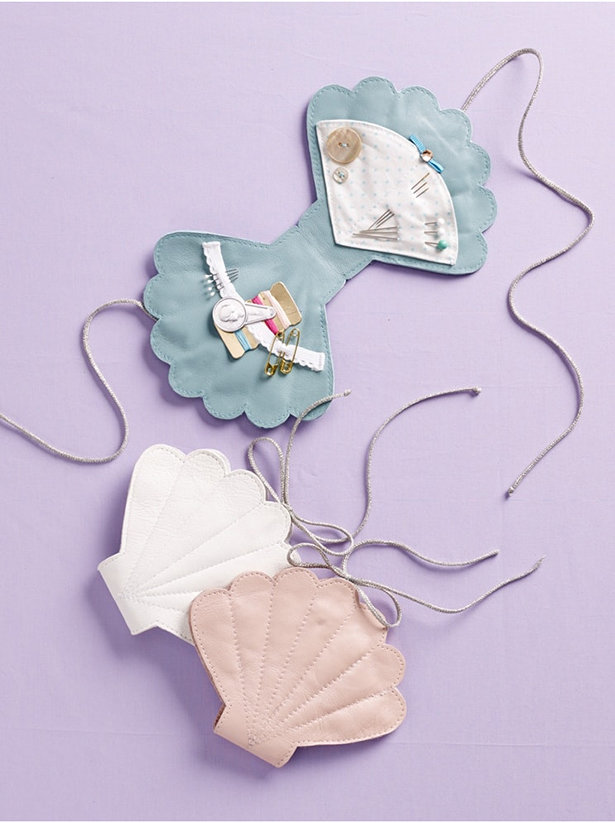 ShareThis
SHE SEWS SEA SHELLS… Holes, loose buttons, ripped seams: With this sewing kit on hand, you'll be ready for every emergency! Read on to see how you can DIY your own.

+ Leather
+ Cotton fabric
+ Bondaweb (Vilene)
+ Stuffing
+ Thread
+ Elastic
+ Lurex ribbon
+ Leather glue
+ Needle
+ Scissors
+ Ruler
+ Pencil
+ Rhinestone
+ Pattern template (download here for free)



Draw around pattern piece, on wrong side of leather. Cut out leather piece.



Iron fusible web (Bondaweb) onto wrong side of a piece of cotton fabric (approx. 15 × 25 cm / 6 × 10 "). Draw pattern piece outline on fusible web. Cut out fabric piece.



Peel paper backing off fusible web. Lay a small amount of stuffing on wrong side of leather piece. Lay fabric piece over stuffing and iron edges to leather. Do not iron center!



With pencil, draw stitching lines on cotton piece. Topstitch twice along each line. Do not yet stitch along edges.



Cut out 2 pocket pieces. Stitch together, right sides facing, leaving an opening, for turning. Trim seam allowances. Turn right side out. Sew opening closed by hand.



Cut a second shell piece from leather, but do not yet cut scalloped edges. Stitch pocket to one half of shell, stitching along side edges and centre. Sew elastic to second half of shell, as desired.



Pin lurex ribbon to both ends of cotton piece and sew in place by hand.



Glue both leather pieces (quilted outer piece and inner piece with pocket and elastic) together, with leather glue.



Topstitch close to all edges. Trim inner piece along scallops. Sew a decorative rhinestone to the shell, as desired.



Put all your little sewing necessities into place and take with you to fix any fashion emergency!