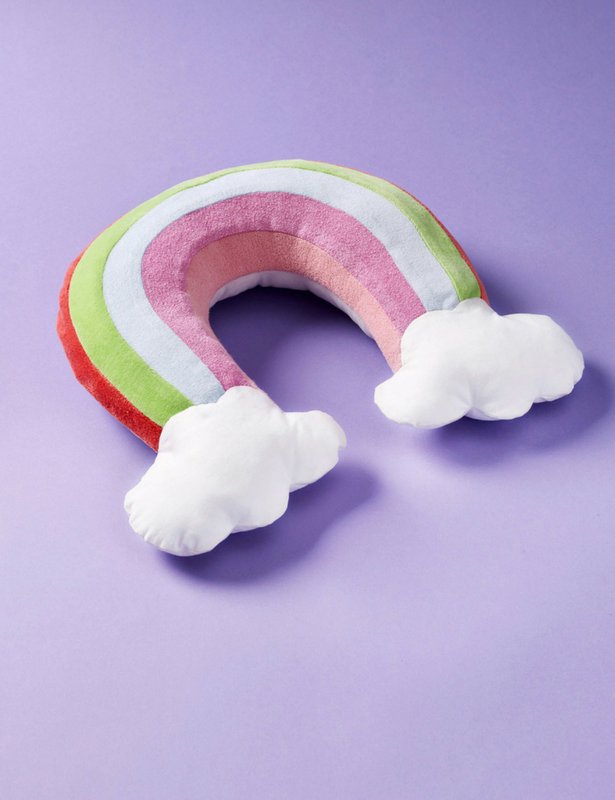 ShareThis
Bon voyage! This cheerful rainbow neck pillow will take you on a colorful journey to dreamland, and will make your journey that much more comfortable and fun.

+ Terry velours fabrics in various colors
+ Light-coloured cotton fabric
+ Thread
+ Straight pins
+ Needle
+ Scissors
+ Thimble
+ Stuffing material
+ Pattern template (download here for free)
Attention! Before cutting the patterns must be enlarged to 200 %.



Step 1: Cut out the following fabric pieces, adding 1 cm (3/8") wide SA: rainbow stripes, rainbow with clouds, rainbow without clouds, cut 1 each, on fold; clouds, cut 2.
Step 2: Stitch the rainbow stripes together, in the correct order. Press all seam allowances up.



Step 3: Pin the striped rainbow unit to the rainbow piece with no clouds (cotton fabric). Stitch together, 0.5 cm (3/16") from all edges.
Step 4: Pin the rainbow pattern to the rainbow and baste along the "cloud lines" with dark thread. The cloud lines can also be marked with a chalk pencil or vanishing marker.



Step 5: On upper edge of each cloud, baste along the seam line, between seam marks. Carefully clip seam allowances and press allowances to wrong side, between seam marks.
Step 6: Pin clouds to ends of rainbow, as marked, and sew pressed-under edges in place by hand.



Step 7: Trim ends of rainbow below clouds, leaving 1 cm (3/8") wide seam allowances. Remove basting threads, if needed.
Step 8: Pin rainbow piece with clouds to rainbow, right sides facing. Stitch together, stitching 1 cm (3/8") from all edges and leaving an opening in the seam, for turning.



Step 9: Turn neck pillow right side out. Stuff with stuffing material. Sew seam opening closed by hand.
Finished! Now your ready for your next vacation. This neck pillow would be the perfect companion on our next Italy Fashion tour to Italy with BurdaStyle, click the image below to see more: