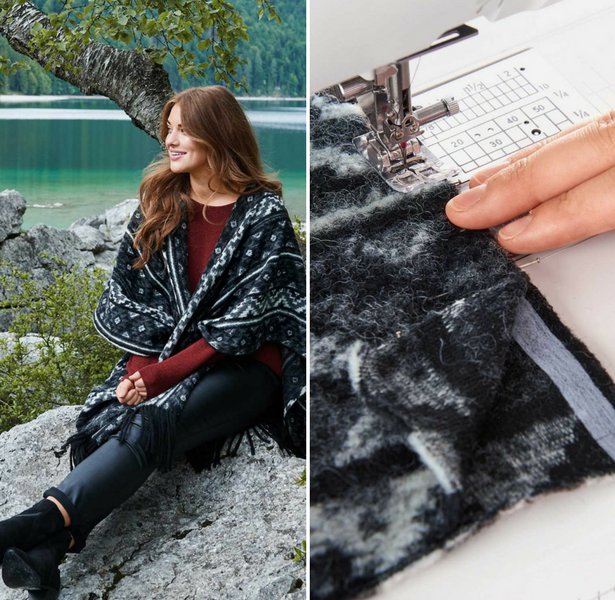 ShareThis
In this poncho-like cape, large prints stand out very well. The fringes make this garment appear very casual but deepening on your accessories you could dress it up or down! All you need is a little fringe and wool yardage and you can make this over piece in an afternoon…
First here is what you will need:
+ Wool fabric with fringed seam
+ Thread
+ Scissors
+ Pins
+ Chalk
+ Ruler
+ Iron-on seam tape
+ 1 Small plate

Using the plate, draw the neckline on the back (placed in the break) and cut out.



At the back of both shoulder seams, iron the seam tape.



Close shoulder seams: put front and back wrong sides together and stitch at 0.5 cm.



Then flip the shoulder seams to be right sides together and and sew at 3/4". Iron the seam to the back (towards the back) and topstitch from the outside.



Outer edges (all around: front part, neckline and side edges) iron 2 × 1 cm and pin. Then sew by hand or with the machine.



Finally cut off the fringes evenly on the hem. If your fabric does not have a fringed hem already, then purchase fringe trim and machine sew to the bottom edge.



Finished! Perfect addition to your closet this time of year.



Try wearing it with a colorful patterned blouse like our Ruffle Accent Shirt and comfy wide leg pants like our Wide Leg Trousers and accessorize with a matching bag in a popping color.