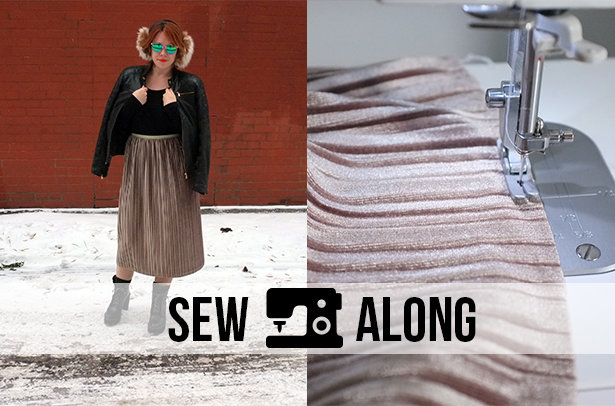 ShareThis
Turn pre-pleated fabric and some elastic into a fabulous skirt that sews together in an hour (or less), and you don't even need a sewing pattern! Read on to see the tutorial, you can make this skirt to wear out tonight…
I found this fabric and instantly knew I had to have it and turn it into a skirt. Pleated skirts are all the rage right now, and the velvet trend seems to only be getting bigger!
I feel like this is the perfect winter skirt, as I do love to wear skirts all year round.
All you need to make this skirt yourself is about 1 1/2 yds of velvet 60" wide, and 1 yd of elastic. This yardage actually makes two skirts! You can make two of the same length (cut in half) or one longer and one shorter one. The way I made mine I'll have two identical skirts, one for myself and one for a friend!
For the elastic I used some that is aesthetically pleasing enough that it could also act as a waistband. Try to find fabric or velvet that is pre-pleated, but if you can't you can still use plain fabric and it can just be a gathered skirt!
Also look at the selvedge of your fabric, mine was actually pretty interesting so I decided to actually use it as the hem finish for my skirt. It both saves time and gives the skirt a unique finish.
My first step was to cut the fabric in half, so I folded the fabric as per the diagram above and pinned the selvedge edges together. This made sure my piece of fabric would be even, and I would get two identical cuts of fabric to make two skirts. If you want to just make one skirt that is longer than half the total width, then lay your fabric in one layer and cut to desired length.
When my selvedges were pinned together I noticed a little mis match along one of the sides, so I used my rotary cutter to even them out. Make sure you match the selvedges and not the sides, because the selvedges are always straight and the fabric cutter at the store may have not cut perfectly straight.
Using fabric cutting scissors cut exactly along the fold.
Once the fold was cut and the selvedges were un pinned, I put the other piece of fabric aside and pinned the piece I was using for my skirt right sides together along the one seam that will become the center back.
Since I'm using the selvedge as my hem, when serging my seam together I wrapped the serging tail into the seam so it won't unravel.
Here is my hem from the wrong side.
I took my elastic and serged the edges together wrapping my tail around one edge again.
Around the top edge of the skirt I sewed a long basting stitch. I had to do this because the fabric was a bit to wide for just the elastic to gather it in.
I pulled my bobbin thread of my basting stitch and gathered in the top of the skirt. You don't want to fully gather in the skirt to exactly match the elastic! The elastic still needs to be smaller in order to stretch sew it in and for you to be able to stretch the top of the skirt and get it over your hips to take it on and off.
I serged the elastic into the waist stretching just the elastic as I sewed.
I flipped up my elastic and had a beautifully finished waist!
Since I was using the selvedge as my hem no further sewing was necessary and I was done my skirt.
I really love this skirt and have plans to wear it this weekend!
The elastic waist makes it super comfy to wear. This project probably took my just under an hour from cutting to sewing and finishing, now time to make my other one. Our community manager Ty is going to love it! I'll see her when I return to Colorado to film another course for BurdaStyle Academy.
In love with velvet like I am right now? Get velvet sewing patterns and working with velvet tips in these new velvet digital products:


Crushing on Velvet eBook; Velvet Kit
This skirt is also definitely going in my suitcase for our Fashion Tour of Italy with BurdaStyle, whos coming with me?
Happy Sewing!
Meg