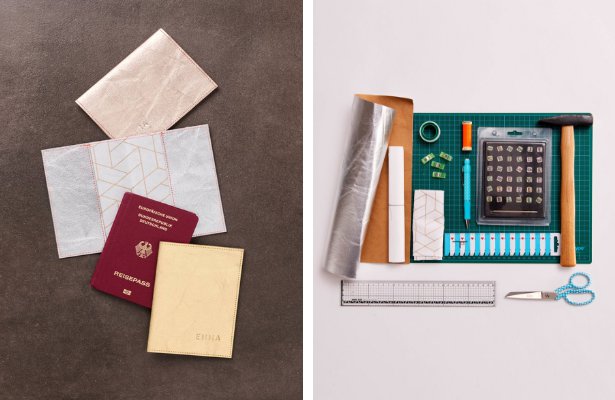 ShareThis
Personalized passport covers made from tear-resistant washable paper accompany us and our loved ones around the world! They can easily be sewn together and personalized as well, just read below to see how…
Images: © Jan Schmiedel

MATERIALS:
+ Washable paper
+ Cotton
+ Vliesofix
+ Thread
+ Clips
+ Hand sewing needle
+ Chalk
+ Scissors
+ Tape
+ Ruler
+ Hammer
+ Cutting mat
+ Embossed letters



Step 1: Wash washable paper according to instructions. Then iron Vliesofix to the wrong side of the fabric cotton, then draw on a rectangle (12″ × 5″).
Step 2: Then cut out your rectangle and peel off the paper from the Vliesofix.



Step 3: Iron the cotton with Vliesofix piece to the wrong side of the washable paper and cut along the edge of the rectangle.
Step 4: Sew the two short sides with a narrow edged stitch and sew the ends well.



Step 5: Fold in 2 3/8" on each of the shorter edges to the center, wrong sides together and fasten with clips. Stitch all around with a narrow allowance.
Step 6: On the right side, place a small piece of masking tape.



Step 5: Hammer your personalized lettering along the taped line. Finally, remove the tape.
FINISHED!



If you are planning a group trip with friends and family, why not make everyone personalized ones to keep their most important document protected.
Happy DIYing!