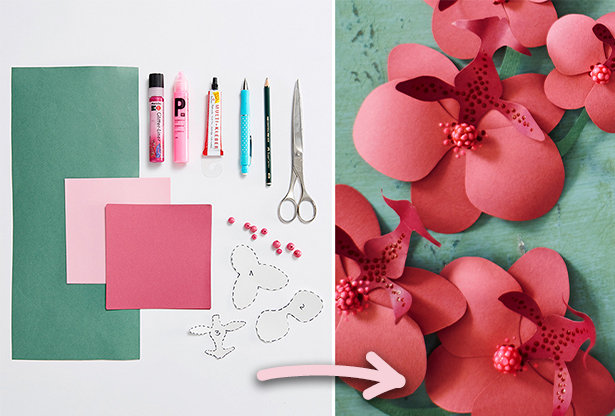 ShareThis
Elevate craft time with these sensational paper orchids. Get into the spring spirit and read on to see how they are made and download the free template.
Materials:
• Cardboard in green, pink and pink
• Glitter glue
• Pearl pen
• Plastic beads in a set
• Glue
• Pencil
• Gel paint pen
• Scissors
• Stencil (download here for free)
Step 1: First, cut out the stencils in the cardboard on the various colors. You can enlarge the template larger and smaller as well to make different size paper flowers.
Step 2: Continue to cut out the stencil and for the leaves, draw oval shapes freehand and cut them out.
Step 3: Coat the flower pieces 1 and 3 in the middle with glue and then also glue the plastic bead in the middle and leave to dry.
Step 4: After drying decorate the bead with gel paint pen in little dots as pictured.
Step 5: Decorate the flower petals with the glitter liner and the pearl pen with dots and let it dry again.
Step 6: Draw fine lines on the leaves with the pencil.
Step 7: Cut "branches" and connect the individual flowers / glue flowers.
Use the paper flowers to decorate a table, for a background, and more! Even try cutting stencil pieces out of fabric and sew to a garment…

Flower Dress 06/2013; Flower Wedding Dress 03/2010.
Happy DIYing!