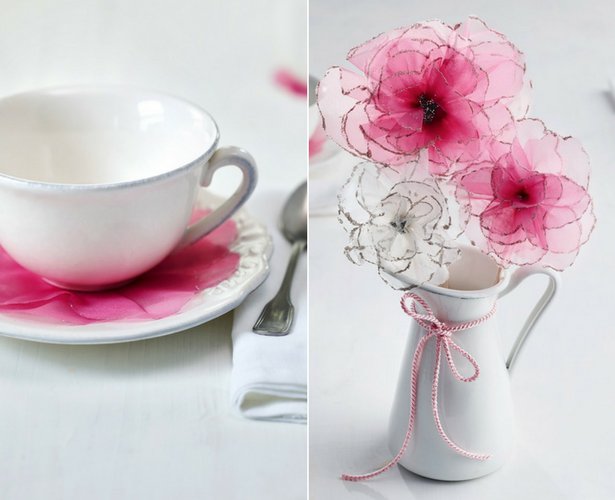 ShareThis
These fine organza blossoms make every coffee table a feast! For even more stylish enjoyment, we also sew together soft ornaments from organza. Spruce up your next brunch get together with these pretty little decorations…

Organza is the most appropriate material for this, since it has a stand and the petals do not collapse. Who likes, can also use a tulle – however gladly on a finely woven, since the Glitter-Glue and the beads otherwise have to little support.



- Pink Organza
- Mini glass beads in silver
- Glitter glue in white / silver glitter
- Scissors
- Pins
- Hand sewing needle
- Yarn
- Template (download here)



Draw template stencils on organza and cut (for each flower you need about 5 petals, for the coasters 2, in different sizes).



Apply Glitter-Glue around on the edges of the petals. Sprinkle the glass beads, allow to dry.



For each petal, sew and circle a circle with the hand; Then flatten the part for the coasters flat, for the blossoms only to correct – so they stay airier.



Place a maximum of 5 petals on top of each other, sew them in the middle, then glue centrally Glitter-Glue – flatten the iron, flatten the flowers once again. The flowers now stick to chopsticks or clips for the napkins.



While the flowers decorate the middle of the table, the fine coasters lend the tea service an additional tender, summery touch!



You could even decorate and appliqué these onto a cardigan or any other garment you want to add dimension.