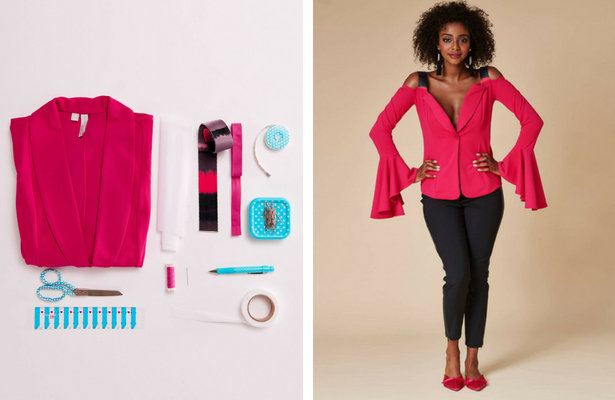 ShareThis
TAKE IT FROM THE TOP! Jackets are now being worn off-the-shoulder, as super-sexy and trendy tops as seen on celebrities and walking down the runway. Read on to see how you can alter an existing blazer in your closet and up-cycle it to be an "it" piece…

This trend is everywhere from the runways of Versace to Daizy Shely and even spotted on the fashionable streets of Paris!



+ Unlined jacket (store bought or handmade)
+ Sewing thread
+ Bias tape
+ Interfacing G405
+ Seam tape (fusible)
+ tape measure
+ Chalk pencil
+ Straight pins
+ Scissors
+ Ruler
+ Needle
+ Webbing



Step 1: Determine where the jacket is to be cut. With a chalk pencil, mark this line evenly on the front and back. Our line is approx. 11 cm (4 1/2") below the shoulder seams. Or try the jacket on and mark the line with straight pins.
Step 2: With scissors, carefully cut the jacket along the marked line.



Step 3: … And separate.
Step 4: To stabilize the cut edges, iron fusible seam tape to the wrong side of the fabric. When doing this, lay the tape in form then place the iron on the tape for approx. 8 seconds, with slight pressure. When ironing the tape along curves, lay small folds in the tape.



Step 5: If needed, back the lapels with fusible interfacing. To do this, lay the interfacing on the wrong side of the fabric and cut it to match the fabric piece.
Step 6: Now iron the interfacing to the wrong side of the fabric. Place the iron on the interfacing with slight pressure, section by section, for approx. 12 seconds on each section.



Step 7: Pin the pre-folded bias tape to the entire cut edge, right sides facing.
Step 8: Stitch along the visible pressed fold of the bias tape, to attach the bias tape.



Step 9: Fold the bias tape to the inside and pin it in place.
Step 10: Edgestitch both edges of the bias tape in place.



Step 11: Fold each lapel in half, right side facing in. Stitch 0.5 cm (3/16") from the cut edge.
Step 12: Trim the allowance diagonally across the corner. Turn the lapel right side out.



Step 13: Fold each lapel in half, right side facing in. Stitch 0.5 cm (3/16") from the cut edge.
FINISHED!



We used webbing for the straps. If you prefer, the straps can be cut from the fabric which is removed from the jacket. If the pieces aren't long enough, simply sew them together.
And if you want to make this blazer-style from scratch, try these patterns and do the cutting to the paper pattern – not the blazer itself!



top left: Check Blazer; top right: Cropped Blazer; bottom left: Tie Belt Blazer; bottom right: Plus Size Trench Coat
Happy DIYing!