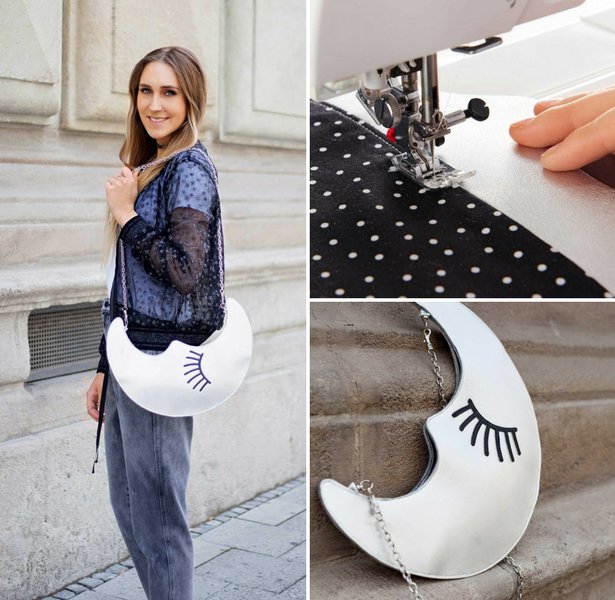 ShareThis
IT'S HEAVENLY! Designers have discovered outer space and we are also reaching for the stars – and for a striking moon-shaped bag.

This leather moon bag with a stiched-on eye will swing at a party but it also shines during the day and draws admiring glances.



Both futuristic and classic – the sun, moon, and stars were found on dresses, coats, and accessories in the latest runway shows!



To make your own, here is what you'll need…
+ Metallic leather
+ Scrap of black leather
+ Leather glue
+ Magnet fastener
+ Snap hook
+ Screw-on attachment rings
+ Decovil & bondaweb (both adhesive)
+ Cotton fabric
+ Sewing thread
+ Clips
+ Chain
+ Pliers
+ Hole punch
+ Scissors
+ Straight pins
+ Pencil
+ Screw driver
+ Pattern pieces (download here for free)

Eye: Iron Decovil to wrong side of black leather, then iron Bondaweb onto Decovil. Moon: Cut front and back pieces from metallic leather. Iron Decovil to wrong sides of both.



Trace the eye pattern onto the Bondaweb side of the black leather and cut out.



Peel paper backing off the Bondaweb. Place eye on moon front piece and iron in place, using a pressing cloth or a piece of baking paper, since the leather is very heat-sensitive



Machine stitch the eye in place



Cut both inner bag facing pieces from leather and iron Decovil to wrong sides of both (Decovil with no seam allowance on lower edges). Mark fastener position.



Cut small slits on both sides of marked fastener position and attach magnetic fastener.



Lining: From cotton fabric, cut 2 lining pieces. Stitch these to leather facing pieces, right sides together. Press allowances toward fabric and understitch in place.



Iron Bondaweb to wrong side of each lining/facing unit. Then iron these units to wrong sides of front and back pieces of leather.



Topstitch front and back individually close to opening edge (approx. 7 cm/23/4" from outer edges), as marked.



Loops: Cut 2 leather strips (1.1 cm x 7 cm/ a scant 1/2″ × 23/4"). Punch a hole in the centre of each.



On each strip, attach a screw-on attachment ring, with the help of a screw driver.



Fold each strip in half and glue ends together, with leather glue, to form loops.



Lay loops between front and back, on both sides, and hold in place with clips. Edgestitch front and back together, approx. 2 mm (a scant 1/8") from outer edges. Attention! Don't leave clips on leather too long because the impressions remain visible!



Finally, attach snap hooks to chain, with the help of pliers, then attach hooks to rings.



Finished!



Pair with a starry shirt like our Sheer Blouse for a super star look!