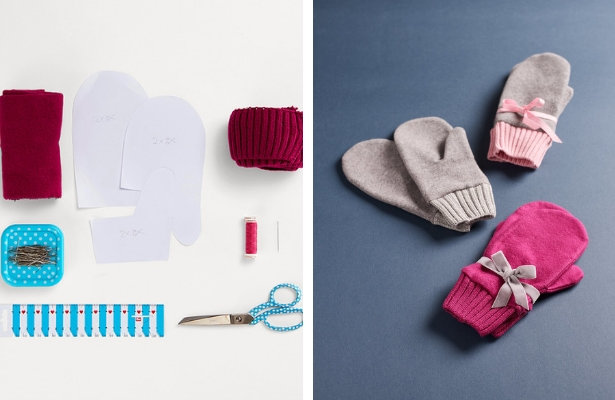 ShareThis
These beautiful mittens are super warm, super hip and a great gift idea just in time for the holiday season. All you need is some fleece, ribbing, and a sewing machine! This is also a fabulous way to use up scrap fabrics, just read on to see how easy they are to create…
All images © Jan Schmiedel

+ Cotton fleece
+ Chunky knit cuffs
+ Pins
+ Ruler
+ Scissors
+ Hand sewing needle
+ Thread
+ Mittens template (download here for free)



Step 1: Place all 3 cut pieces on the fabric and cut twice each with 1 cm seam allowance.
Step 2: Place the two pieces of thumb on top of each other right sides together and pin to the marking.



Step 3: Stitch both pieces of fabric together at 1 cm, sewing the ends well at the marking.
Step 4: Cut back the seams to approx. 0.5 cm and iron.



Step 5: Attach the larger piece right sides together, moving the thumb upwards.
Step 6: Sew both gloves around at 1 cm and then cut back the seam allowance to 0.5 cm. Turn to the right side.



Step 7: Fold the cuffs (each approx. 20 cm long) and sew together with an overlock stitch right sides together. Then sew the loose threads by hand on the lower edge.
Step 8: Stitch cuffs evenly on right sides together evenly around the bottom opening of the glove. Then finish the seams with an overlock stitch.



FINISHED! Decorate your mittens with ribbons and bows or even try embroidering for extra customization.