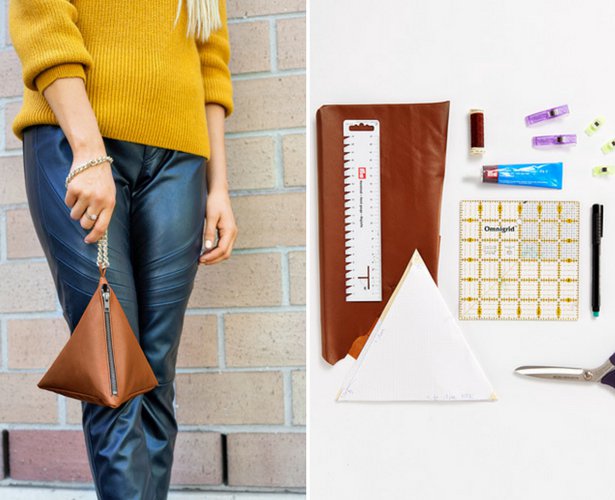 ShareThis
This mini bag of soft in leather will accompany you day and night and it's easy to sew! With this bag you don't need hardly any wrist accessories because it acts as both a bracelet and a bag. Read on to see how you can make one for yourself…

+ Leather
+ Zipper 18 cm long
+ Thread
+ Fabric glue
+ Scissors
+ Ruler
+ Clips
+ Pen
+ Link chain 50 cm long
+ Template (download here for free)



First, draw the stencil onto the leather and cut with 1 cm of seam allowance. Then cut the flap (8 × 1.8 cm) and glue on both sides with leather glue.



Then sew on one side.



This is the process of the piece… Cut, glue, and sew!



Cut the cutout of the zipper and glue it with leather glue.



Clip the zipper and sew. Tip: Place your hand near the foot, so the leather sews smoother.



Insert the tab into the top of the bag and sew it.



Glue the lower seam at the zipper with leather glue and then close the bottom and side seams. Finally, attach the link chain to the tab.



We have not lined the bag – but you can put a lining. To do this, sew the bag from cotton again and sew it by hand at the zipper.
You're not on leather? The bag also looks great from neoprene or coated cotton!
If you want, you can use a leather cord or cord instead of the link chain.



Happy DIYing!