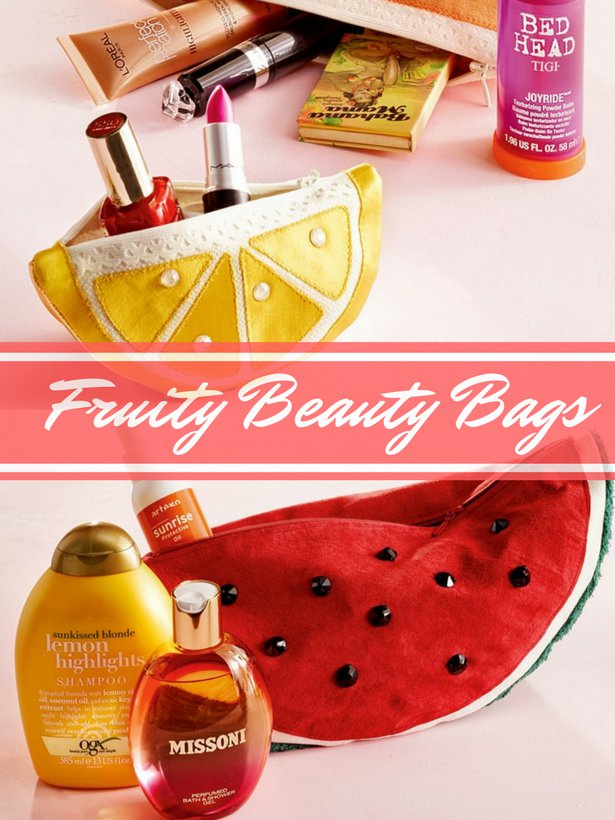 ShareThis
Need vitamins? Then we recommend that you sew several of these fruity beauty bags – the large watermelon to accompany you on your summer holidays, the orange for a weekend jaunt, and the little lemon for your purse – or for coins!

Materials:
- Leather or satin
- Terry cloth or terry velours
- Cotton fabric
- Lining
- Thread
- Zipper 30 cm (12")
- Clips (get here)
- Strong thread
- Swarovski crystals to sew on
- Leather glue
- Ruler
- Scissors
- Straight pins
- Needle
- Quilter's ruler
- Pencil
- Patterns (download here for free)



STEP 1: Cut all fabric pieces (main fabric and lining) from the corresponding fabric, adding 1 cm (3/8") wide seam allowances.



STEP 2: Cover the ends of the zipper with small pieces of leather (approx. 3 × 2 cm/1¼" x ¾") and stitch in place.



STEP 3: Fold allowances on straight edges to wrong side and glue in place.



STEP 4: Lay zipper under fold edges and edgestitch in place.



STEP 5: Slide beige edge piece under leather. Edgestitch leather edge in place (not turned under)



STEP 6: Sew crystals in place with strong thread.



STEP 7: Clip edge at each end of zipper, approx. 0.7 cm (¼") deep. Pin terry cloth base piece in place and stitch in place.



STEP 8: Sew lining, leaving an opening in seam, as marked. Pin lining around zipper and sew in place by hand.


Please note: On the lemon and the orange, the lines between the segments must be stitched with closely spaced zigzag stitches. The zipper is sewn in place, with visible edges.