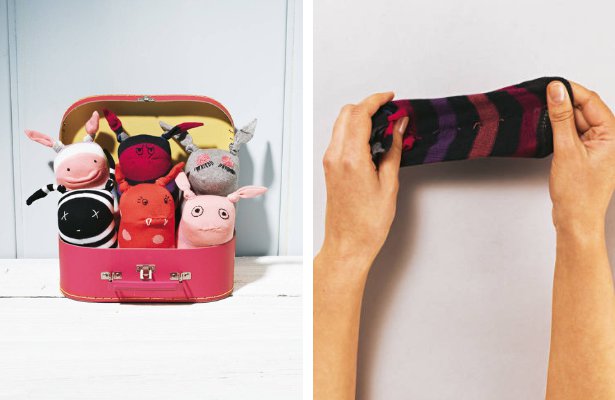 ShareThis
What to do with all those socks who lost their pair to the laundry machine? Well make little monsters of course! They're very easy to sew – and these cute sock monsters can also be perfectly made together with kids…
MATERIALS:
+ Sock
+ Fiberfill
+ Embroidery thread
+ Hand sewing needle
+ Yarn
+ Scissors



Step 1: First turn the sock wrong side out.
Step 2: Put the sock with the heel up under the machine and make a square "U" in the sole of the foot. Begin the seam at the toe part and finish there too.



Step 3: Cut out the interior of the quilted "U", leaving a seam allowance of 3 mm.
Step 4: Turn the sock back to the right side, and knot the ends of the sock – now the ears are ready.



Step 5: First stuff the "head" with the fiberfill, shape and draw a face on the former heel with a fabric marker, then embroider. When that's done, stuff the rest of the body out.
Step 6: Sew a stitch along the cuff by hand, tighten and sew. Bring the filling to the desired shape by gently kneading.



FINISHED! Make a bunch with all your lonely socks – and get creative with the eyes and details to make each little monster unique.