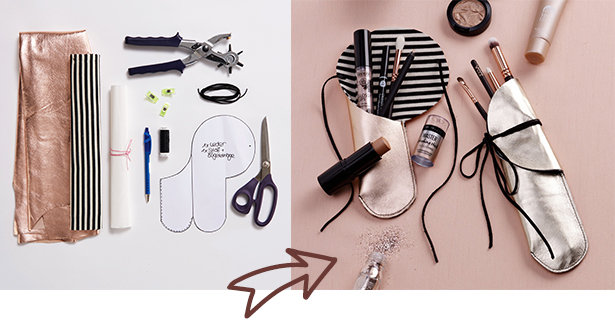 ShareThis
This time of year means lots of travelling, and you need some where to pack all your makeup brushes and tools to take with you. Make one for yourself and one for a friend as a hostess or holiday gift! Read on to see how you can sew your own…
Grab some scrap leather or fabric, download and print the free template here and get started!
Materials:
- Leather
- Cotton fabric
- Fusible web
- Pencil
- Pattern piece (download here for free)
- Scissors
- Hole punch
- Thread
- Leather cording
- Clips (get here!)
Step 1- Print the template and trace onto the wrong side of the leather.
Step 2- Cut out of the leather
Step 3- Iron fusible web onto wrong side of cotton fabric.
Step 4- Peel off backing paper. Iron to wrong side of leather. Cut fabric piece.
Step 5- Lay pattern piece on leather side and mark hole position.
Step 6- Fold leather wrong sides together as shown, and secure with clips (do not pierce with needles as holes can be seen).
Step 7- Fold piece as marked, fabric side facing in. Hold with clips (pins would cause permanent holes in leather). Edgestitch closed. Tie-off ends of seam with backstitching.
Step 8- Fold upper section in half and hold with clips.
Step 9- Punch hole through all layers, as marked.
Step 10- Run the leather band through both holes.
Have even more scrap leather and fabric laying around? Why not make a matching jewelry holder and key chain!

See how to make the jewelry dish here; See how to make the key chain here
Happy DIYing!