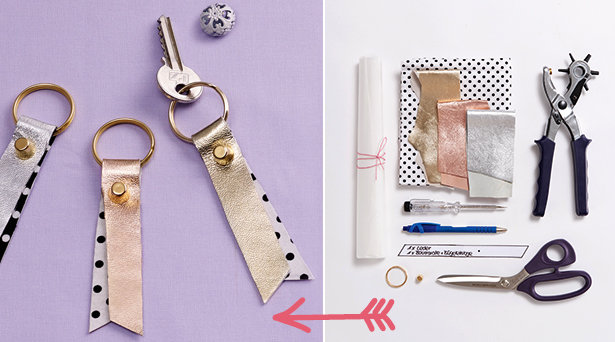 ShareThis
We all know how keys can accumulate, so why not make your own little key chains from scrap fabric and it will prevent you from loosing your keys! Read on to see how to make…
These little leather key chains are adorable, stylish, and also make a fabulous holiday stocking stuffer.
First, here is what you will need below and don't forget to download and print the template here!
Materials:
- Scraps of leather & cotton print fabric
- Fusible web
- Pencil
- Pattern piece (download here)
- Scissors and hole punch
- Screwdriver
- Golden key ring and tubular rivet
Step 1- Iron fusible web onto wrong side of cotton fabric. Peel off back paper. Iron fabric to wrong side of leather.
Step 2- Trace around pattern piece onto fabric. Cut out exactly.
Step 3- On leather side, mark rivet position. Check if the pieces adhere well together. If not, press again.
Step 4- Fold leather strip in half, fabric side facing in. Slide ring between layers, up to the fold, and punch the hole as marked.
Step 5- Insert rivet through holes and screw closed.
Step 6- Tighten screw with screwdriver.
Make several for all your friends and family for the holidays, or for yourself to keep organized.
Add to your collection of little leather DIYs and make a matching jewelry dish! See how to make your own leather jewelry dish here.
Happy DIYing!