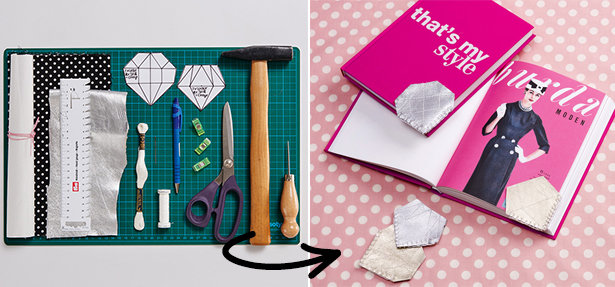 ShareThis
A small amount of sparkling leather will have you knowing exactly where to start reading again. This book mark comes together quickly and will use up any little bits of fabric you have laying around. Is your New Year's resolution to read more? Then you are going to need a fancy new DIY bookmark!
Here is what you'll need:
- Diamond template (download here for free)
- Cutting mat
- Scrap piece of leather in silver
- Scrap piece of cotton fabric
- Vliesofix
- Hammer
- Awl
- Hand sewing needle
- Scissors
- Pen
- White embroidery thread
- White yarn
- Clips (buy here)
Step 1- On back side of leather trace two "diamond" templates and cut out with scissors.
Step 2- Stitch the "diamond" seams and backstitch at edges. For straight lines, place a ruler under the foot, the leather will sew more easily or use a Teflon foot.
Step 3- Iron the Vliesofix on the fabric, peel it and then iron the fabric onto the leather (not too hot).
Step 4- Clip both parts of the bookmark with clips exactly on top of each other.
Step 5- Along bottom edges measure and dot at regular intervals of approx. 0.5 cm. Use a cutting mat, awl and hammer to make holes on dots.
Step 6- Thread your hand sewing needle with the yard and sew together both diamonds through the holes. From the bottom up through the leather sew, do not pull through completely, but leave a loosely loop …
Step 7- Thread the needle through the loop …
Step 8- … and pull! Now repeat: thread the leather through the leather from the back up to the top, while leaving a loop, from the top through the loop again and tighten – finished!
Get creative and use different colors of leather and fabric with contrasting yarn.