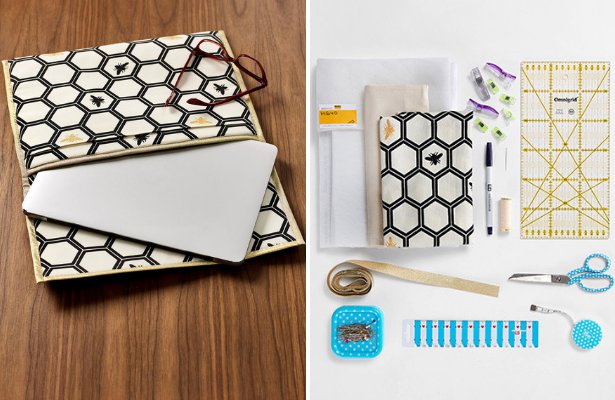 ShareThis
Perfectly protected and with style! Your laptop can slip right into this padded sleeve with extra space to tuck your charging cable, headphones and even some notes. Tip: If the measurements we have here do not match your laptop, simply adjust the dimensions to fit your laptop needs.
Images: © Jan Schmiedel

MATERIALS:
+ Honeycomb, cloth/canvas
+ Interfacing: H 640 (Vlieseline)
+ Thread
+ Bias trim
+ Sewing needle
+ Pins
+ Scissors
+ Quilting ruler
+ Tape measure
+ Trick marker
+ Ruler
+ Sewing clips



Step 1: Cut for main fabric (shown in pink): 1-piece 116 × 36 cm/45.5 × 14.25 in, 1-piece 27 × 36 cm/ 10.625 × 14.25 in. (flap). Cut for lining (shown in light purple): 1-piece 47 × 36 cm/18.5 × 14.25 in. Cut batting H 640 (shown in yellow): 1-piece 72 × 34 cm/28.25 × 13.5 in.
Step 2: Stitch main piece and exterior flap piece (27 × 36 cm/ 10.625 × 14.25 in.) with right sides together along the narrow side (36 cm/14.25 in) with 1 cm/ 3/8in. seam allowance. Press the allowance toward the nettle and topstitch on the right side close to the seam.



Step 3: Measure 25 cm/9 7/8 in. from one narrow edge on the wrong side of the fabric (116 × 36 cm/45.5 × 14.25 in), press and topstitch a narrow fold of fabric. Turn back to right side and measure another 22 cm/85/8 in. and stitch a fold.
Step 4: Fold and pin the flap pieces (Step 3) as shown Step 1. Press the batting on the wrong side (leaving 1 cm/3/8 in. along both sides).



Step 5: Pin wrong sides of batting piece (Step 4) and the sewn lining piece (Step 2) and stitch a bottom crease.
Step 6: Stitch 0.5 cm/1/4 in. around the full case to fi x it in place.



Step 7: Finish the narrow edges (36 cm/ 14.25 in) with the bias tape.
Step 8: Fold the clutch to the finished size and finish the side edges (46 cm/18 in) with bias tape.


FINISHED! This sleek cover leaves some space for tucking in important accessories – and it's perfect for travel.