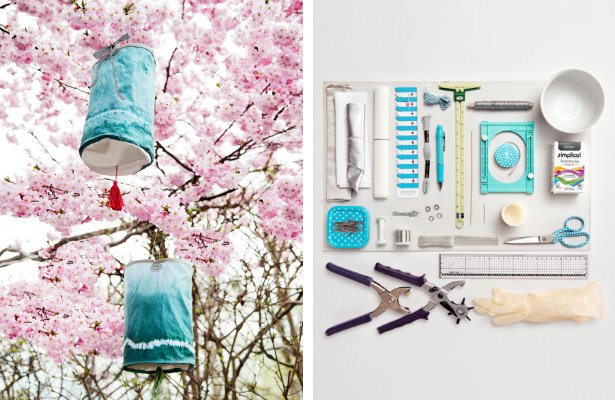 ShareThis
An eye-catcher at every garden party! These lanterns can work both as a home accessory or as a party decoration and are in any case a real crown pleaser. Read on to see how you can easily make them for yourself including the tie-dye effect…

+ White cotton fabric
+ Satin fabric
+ Silver leather
+ Glass bowl
+ Wooden sticks
+ Gloves
+ Thread
+ Ruler
+ Carton
+ Vliesofix Vlieseline
+ Fabric dye
+ Embroidery thread
+ Tassel maker
+ Sliding gauge
+ Candle
+ Wire
+ Yarn
+ Chalk
+ Eyelets with setter
+ Scissors
+ Bias tape
+ Wooden skewer
+ Pins
+ Hand sewing
+ Tape measure



Step 1: Cut circle with a radius of 9 cm (18 cm in diameter) made of Vliesfix using the slider gauge (seam allowance already included).
Step 2: Iron the circle on satin fabric.



Step 3: Then iron the white cotton fabric.
Step 4: Quarter the circle and cut the fabric into the markings approx. 2 mm within the seam allowance. This is the bottom/base of the lantern.



Step 5: Cut rectangle (approx. 50 × 25 cm) of white cotton fabric and stitch side seam (25 cm) as a French seam. For this, stitch wrong sides together at 0.5 cm, turn to the right side and sew again at 0.7 cm.
Step 6: Firmly tie down the fabric tube with the yarn.



Step 7: Mix the color fabric dye according to the instructions.
Step 8: Now dye the fabric. Then dissolve tie yarn and allow to dry.



Step 9: On the lantern (stitched rectangle) also mark the quarters (as in Step 2) and pin the bottom (on the quarter markings).
Step 10: Now stitch all around at 1cm.



Step 11: Pin bias tape over the top edge of the lantern…
Step 12: …And stitch in place.



Step 13: Make tassel with the tassel maker as per the instructions.
Step 14: Tie the threads into a tassel.



Step 15: Trim the tassel to desired length.
Step 16: Iron leather with Vliesfix and cut 2 circles (about 3 cm in diameter). Iron on both sides (1/4 of rear center) on the upper edge of the lantern for reinforcement.



Step 17: Pierce holes in the middle of the leather circles with the punch pliers and attach eyelets with the pliers. Then attach the wire for hanging.
Step 18: Finally sew the tassel on the bottom of the lantern by hand.



FINISHED! Hang from your ceiling, an outdoor tree, and everywhere in-between. Make many and hang at different lengths for an interesting look.