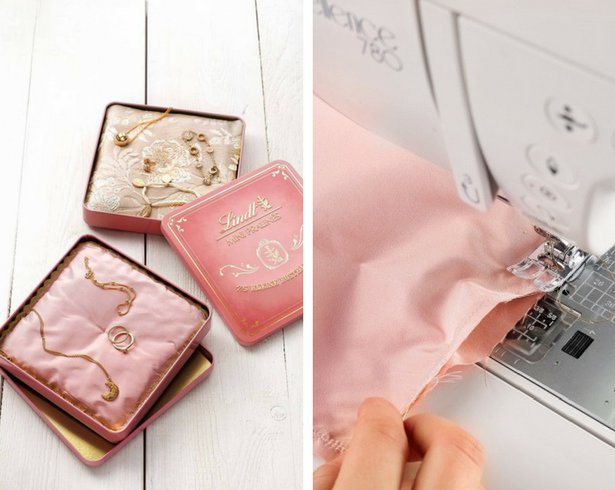 ShareThis
A decorative tray with an ultra-soft pillow is the perfect laying place for your most delicate jewellery. This is the perfect craft to sew if you received chocolates and special jewellery for the holidays! Read on to see how to make…

Materials:
+ Repurposed tin
+ Satin fabric
+ Batting
+ Thread
+ Rickrack
+ Pins
+ Hand sewing needle
+ Wire
+ Paper
+ Pencil



Step 1: Remove the lid of the box and transfer the contour to the paper with the pencil.
Step 2: Cut stencil 2 times from fabric with 1 cm seam allowance each.



Step 3: For a piece of cut on the right side of the fabric, attach the rickrack all the way around (so that the middle of the ribbon meets the 1 cm line).
Step 4: Then stitch the rickrack all around at 1 cm.



Step 5: Sew on the second cut piece (right to the right) all around at 1 cm (on the stitching of the rickrack). Let the opening turn.
Step 6: Cut back the seam allowance to 2 mm and turn the pillowcase. Cut the batting without seam allowance and insert.



Step 7: Close the opening of the pillow with the hand needle.
Step 8: Finally, mark the middle of the pillow and sew it in the middle with a few hand stitches.



Finished! If you are giving away a piece of jewellery as a gift, you could also make this adorable box to house your gift… Valentin's Day is just around the corner.