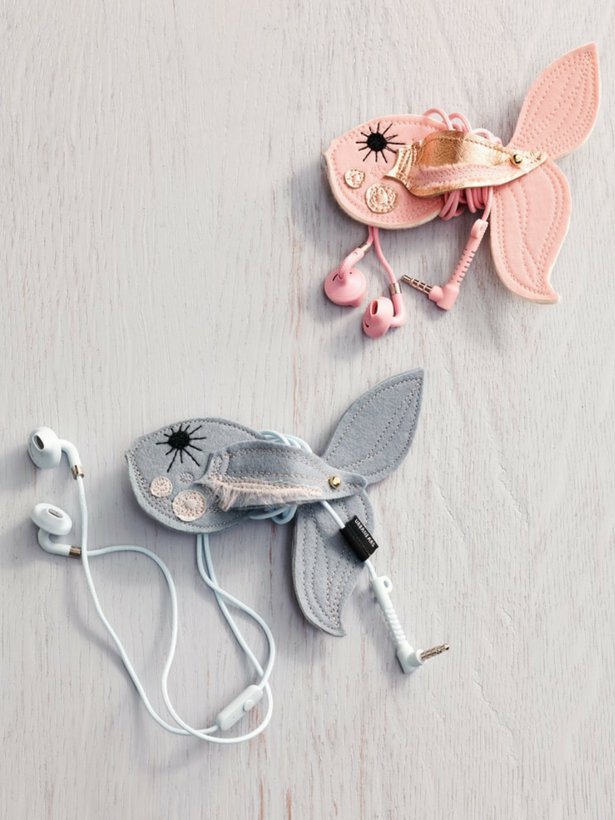 ShareThis
No one likes knotted up headphones, espeically when they are bouncing around in your purse. So why not sew a little headphone holder to keep them safe! These fish covers are easy and quick to sew and not to mention adorable. Read on to see how to make your own and download the free template…

MATERIALS:
- Felt (1 to 2 mm thick)
- Leather
- Thread
- Vliesofix
- Closure for screwing
- Scissors
- Pins
- Pen
- Template (download here for free)



STEP 1: Trace fish on Vliesofix, iron on felt, cut out and then peel off the paper.



STEP 2: Cut out the eye (Ø approx. 7 mm) and the scales of fabric or leather, put on the rays or circles …



STEP 3: … with Vliesofix. Press in place.



STEP 4: Iron on a second piece of felt and cut off excess material.



STEP 5: Edge-stitch all the way around fish. Stitch tail, fin and belly with decorative stitch lines as pictured.



STEP 6: Trace fins, cut and iron on each other. Decorate with frayed fabric. Punch the hole.



STEP 7: Pin to the fish…



STEP 8: … and then sew. Punch the hole in the fish and screw in the cap – done!


Finished!