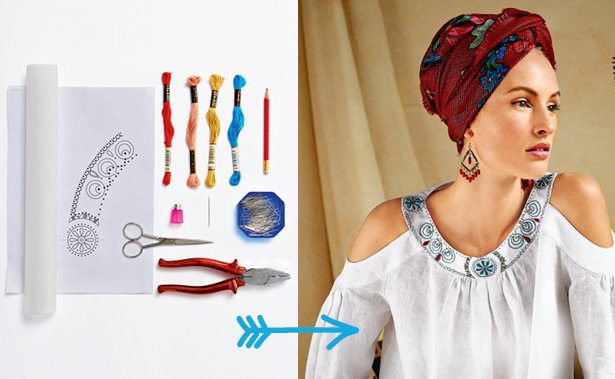 ShareThis
This step by step will get you underway to achieve this beautifully embroidered neckline that has the look of a collier on our newly released Embroidered Cold Shoulder Top.
Tip: You can embroider the yoke before attaching it to the garment. The instructions below show the yoke as already attached before embroidering.
Materials:
- Embroidery template (download here for free)
- Embroidery thread
- Pencil
- Scissors
- Thimble
- Flat-nose pliers
- Hand sewing needle
- Transparent Paper
- Stick pin
- Top sewing pattern, or any fabric or garment you want to add detail to
Step 1: Trace your design onto tracing paper. Pin it to the neckline and use a pencil to copy the design onto the fabric. Or, transfer the design with a Magic Pen.
Step 2: French knots; Tie off the end of the thread and pull through from the backside of the fabric. Wrap the thread 3 times around the needle, stick it back through to the back. Use the pliers, if needed.
Step 3: Back stitch; Stitch once around the circle, then again to finish between each stitch with a thread loop.
Step 4: Back stitch embroider along the curved edges. Complete the petals with a satin stitch (long, parallel stitches). Cover the backside of the stitching by turning the hem on the wrong side, pin and finish by hand.
Finished!