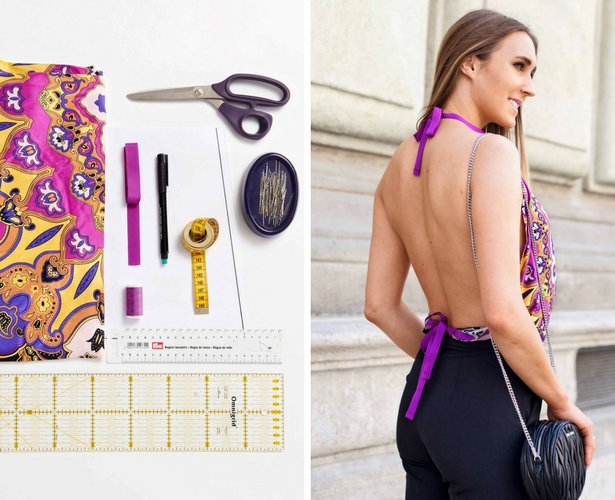 ShareThis
Hurry up! Bold vintage prints are everywhere this season. We used one to sew a halter top that is easy enough for beginners, read on to see how…

Gather the following:
+ Print fabric or a print scarf
+ 3 m (3 ft. 12 ins) of petersham ribbon
+ Thread
+ Rotary cutter
+ Ruler
+ Paper
+ Pencil
+ Scissors
+ Straight pins
+ Small ruler
+ Tape measure



Paper pattern piece: Draw a trapezoid, 50 cm (20") high, upper edge 25 cm (10"), lower edge (13"). Add SA of 1 cm (3/8") to angled side edge and 2 cm (¾") to upper and lower edges.



Fold fabric. Pin pattern piece to fabric, with vertical edge (no SA) on fold of fabric. Cut out fabric piece. If needed or desired, the pattern piece can be drawn larger.



Press upper and lower edges to wrong side, each twice 1 cm (3/8"), and pin in place.



Edgestitch in place, tying off ends of stitching with backstitching.



Cut ribbon in half. Pin each half to side edge of top, right sides facing, leaving approx. 50 cm (20") of ribbon extending on upper and lower edges. Edgestitch ribbon in place.



Press ribbons to wrong side and pin in place.



Edgestitch inner ribbon edges in place. On each ribbon end, press twice 1 cm ( 3/8") to wrong side and stitch in place, to prevent fraying.



Finished! Fashionistas will pair the top with matching prints or pastels for the bottom for pattern mixing outfits as we saw on the Pucci and Marc Cain runways. This top also makes a fabulous layering piece under a cardigan or blazer for the fall.


Happy DIYing!