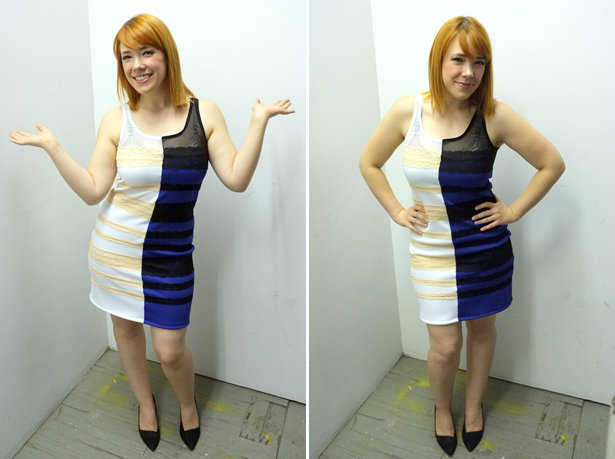 ShareThis
Well here it is, my finished Halloween costume! Is it blue and black, or white and gold? This was a fun costume to make, and I imagine a more fun costume to wear. It was a lot more work than I initially anticipated, but I'm so glad I stuck with it (I even had to run out to get more gold lace mid way through)! Read on to see more images and how I finished sewing my dress…
I continued to zig zag top stitch my gold lace onto my white half with my gold thread (p.s. I HATE using metallic thread… It broke literally every 5"). Patience was really key when working with the metallic thread and stitching my gold lace in place.
Next was to finished the top edges before I sewed the two halves together. I bought some white elastic and black elastic, and serged the white elastic onto the wrong side of the armhole and neckline edges of the white mesh and did the same to the black mesh edges. Once the elastic was serged in place (I slightly stretched the elastic as I sewed so it would gather the edges in a bit) I zig zag top stitched all the elastic in place from the right side.
Now it was time to sew the two halves together! I wrapped the serger thread around the top seam to secure the seam (since both neckline edges were already finished). Then I finished the hem with a wide zig zag stitch alternating between black and white thread for the corresponding halves.
Here it is! Our Knit Top and Dress Sloper was the perfect base pattern to use for this knit dress, and I like the end fit of it. View more images of my dress here!
Happy Sewing, and I just wonder what I'll be next year…
Meg
If you want to follow my process from the beginning you can view my other posts here: