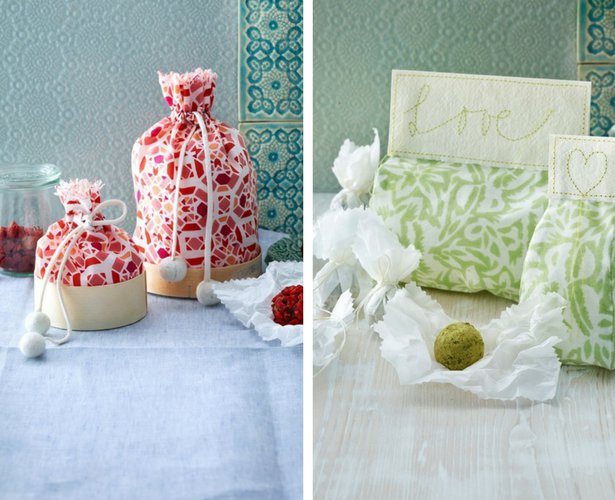 ShareThis
SMALL & SWEET: Do you need a little gift? Why not one of these darling bags? Read on to download the free pattern template and see how you can sew each of these bags together…

Here is what you'll need:
+ Cotton print fabric
+ Cotton fabric in solid color
+ Round wooden lid
+ Thread
+ Chalk pencil
+ Ruler
+ Hand sewing needle
+ Scissors
+ Straight pins
+ Bias tape former
+ Bodkin
+ Felting wool
+ Long ruler



From print fabric, cut one rectangle (28.5 × 13 cm/ 11 ¼" x 5 1/8"), with upper edge torn; one circle (ø 10 cm/ 4"); and casing piece (28 × 2.5 cm/11″ × 1″ ). From solid fabric cut drawstring (40 × 1 cm/ 16″ × 3/8")



Fold rectangle in half, wrong side facing in, matching narrow edges. Stitch narrow edges together (back seam), stitching 0.5 cm (3/16") from edges.



Now turn bag wrong side out and press. Stitch 0.7 cm (¼") from the seamed edge, for a neat finish, both inside and out.



Press casing piece with bias tape former, following manufacturer's instructions.



Pin casing piece to outer side of bag, approx. 2 cm (¾") below upper edge, on ends turning raw edges under. Edgestitch upper and lower edges of casing in place.



Pin base piece (circle) to lower edge of bag and stitch in place.



Fold drawstring piece lengthwise and edgestitch long edges together, also stitching across one end. Turn right side out, using the knitting needle as a turning aid.



Pull drawstring into casing, with the help of the bodkin.



With the felting wool, form two balls by rolling them between your hands. Sew felted balls to ends of drawstring.



Finished! Fill with goodies to give away to a friend or keep for yourself.



Here is what you'll need:
+ Cotton fabric
+ Handmade paper
+ Thread
+ Ruler
+ Straight pins
+ Scissors
+ Pattern piece (download here for free)



Use pattern piece to cut fabric piece, adding 1.2 cm (½") wide seam allowances. Fold fabric piece, wrong side facing in. On all 4 sides stitch 0.5 cm (3/16") from edge.



Press seams open. Turn bag wrong side out. Then on all 4 sides, stitch 0.7 cm (¼") from edge. Press seams. Turn bag right side out.



Cut paper piece for top. Fold upper opening, fi ll bag with sweets, and pin opening closed. Fold paper piece over opening and stitch in place, adding a heart or message, as shown.



Finished!


Happy DIYing!