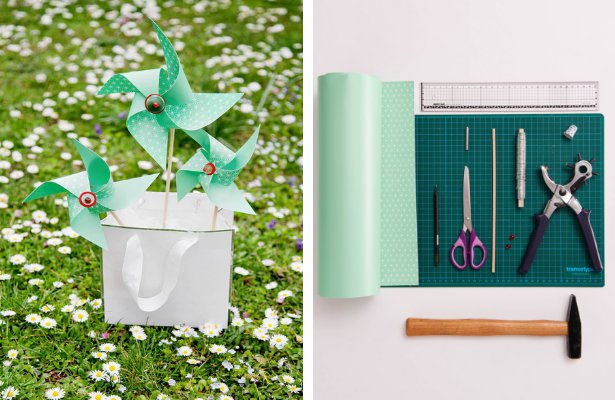 ShareThis
A splash of color for every garden! If you're throwing an end of summer party these small windmills are a pretty decoration in every bed or flowerpot to enjoy those last moments of warmth in your backyard.
Images: ©Jan Schmiedel
MATERIALS:
+ Cutting mat
+ Pencil
+ Scissors
+ Hammer
+ Wooden sticks
+ Motif paper "Starlight" printed on both sides
+ Wire
+ Thimble
+ Ruler
+ Punch
+ Beads



Step 1: Cut square (14 × 14 cm).
Step 2: Using a pencil, connect the corners crosswise.



Step 3: Measure out from the middle in all four directions and mark at 1.5 cm.
Step 4: Make a hole in the center with the punch.



Step 5: From the four corners, cut the cardboard up to the markings.
Step 6: Use the punch to make a hole in the right corners, for a total of four holes.



Step 7: Cut the circle (thimble as a template) and punch in the middle and thread it with a bead onto a 40 cm long wire.
Step 8: Thread the 4 corners as well as the middle.



Step 9: Finally attach the wire to the wooden stick.
FINISHED! Make several in various colors to fill your garden with and watch as they spin in motion.