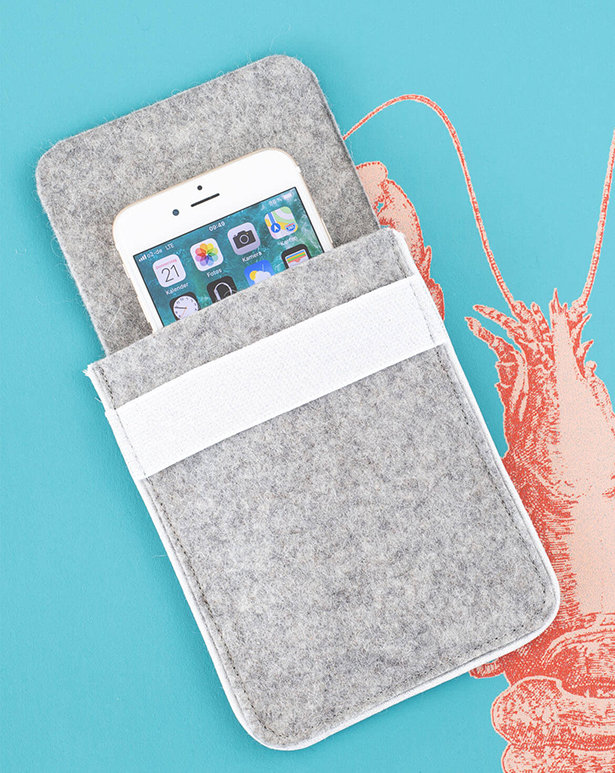 ShareThis
Protect your phone from scratches made from bouncing around in a large purse with this protective felt case! Easily made with a little felt and piping, this case comes together quickly and will use up scrap pieces of trim and fabric.
Photo: © Mirjam Fruscella

MATERIALS:
+ Felt 25 cm x 25 cm
+ Elastic band 25 mm x 15 cm
+ Piping 40 cm long
+ Sewing thread
+ Pins
+ Scissors
+ Hand sewing needle
+ Pattern (download here for free)


Place the pattern pieces right side up on the felt and draw around the edges. Draw two of piece #1 and one of piece #2 – cut out along these lines. Also transfer the notches to the pattern pieces.

Step 1: Back pocket: Place a pocket piece on the flap so that the top edge of the pocket meets the marked line on the pattern and the flap is between the notches. Stitch together at 5 mm.
Step 2: Baste the piping around the edge of the pocket so that the piping extends past the edge.



Step 3: Front pocket piece: Place the elastic band between the notches on the pocket piece, and fold the ends of the band inwards and pin them down.
Step 4: Put the pocket pieces wrong sides together and stitch along the side and bottom edges around the curves. Remove all basting threads.



FINISHED! Place your phone inside and you are all ready and protected. This also works for protecting passports, sunglasses and even jewelry for travel.
See below for some more phone case DIYs to suit your needs:



left: Phone Carrying Case; right: Cork Phone Case

Happy DIYing!