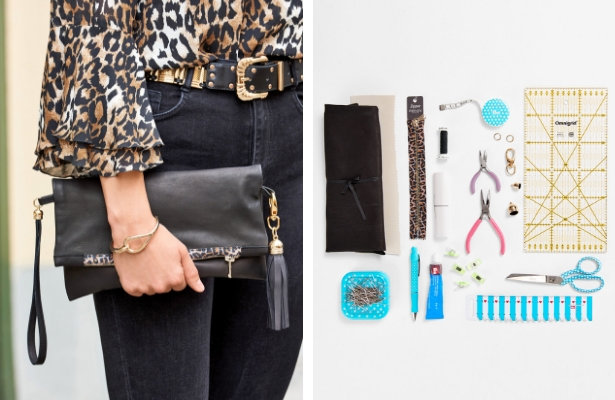 ShareThis
Cool and yet feminine: This folding clutch with leopard zipper and tassel charm can go everywhere with you! This bag shape is held by hand or clamped under the arm. However, the soft leather handbag still has a practical carrying strap, making it not only suitable for solemn occasions, but also suitable for everyday use. The most important things like mobile phone, lipstick and money find great place in it.
All images: © Jan Schmiedel

+ Piece of leather 28 cm 56 cm
+ Decovil Vlieseline
+ Vliesofix 3 cm 4 cm
+ Zipper 20 cm
+ Thread
+ Scissors
+ Chalk
+ Pins
+ Leather glue
+ Hand sewing machine needle
+ Tape measure
+ Patchwork ruler
+ 2 Tassel-Caps
+ Pliers
+ Plastic wonder clips
+ 2 split rings 15 mm
+ Swivel trigger snap hook



Step 1: Cut pocket made of leather: 28 × 56 cm (seam allowance already included).
Step 2: Cut Vliesofix: 2 pieces 3 × 4 cm. Iron then on leather and cut to size.



Step 3: Remove paper from the Vliesofix and cut again 2 pieces of leather (3 × 4 cm each).
Step 4: Put the pieces of leather with Vliesofix on both ends of the zipper sandwiching the zipper ends in between each leather piece.



Step 5: Stitch the leather pieces on both ends of the narrow edges. This makes the zipper is edges clean.
Step 6: From the wrong side, use the clips to clamp the enclosed zipper on a narrow edge of the leather (28 cm).



Step 7: Stitch the zipper on the outer edge from the right side. Then sew the other side of the zipper in exactly the same way.
Step 8: Cut strips of Decovil (about 1 × 40 cm), and iron on to leather and cut out.



Step 9: Put leather piece wrong sides together and stitch all around with narrow edges.
Step 10: Then carefully cut away the excess leather.



Step 11: Cut off two parts (5.5 cm each), and fold and clip together. The rest (about 29 cm) of the leather piece serves as a pocket handle (Step 16).
Step 12: Turn pocket to wrong side and clip both side seams together. On both sides 8 cm from the top edge, attach the two loops with rings.



Step 13: Stitch side seams at 1 cm keeping the zipper open. Then turn the bag back to the right side.
Step 14: Cut leather to 20 × 11 cm. Draw a marking along the 20 cm edge with chalk at 1.5 cm on the left side. Using your scissors to create fringe, cut up the piece to the line spacing each cut about 1 cm apart.



Step 15: Coat the 1.5 cm wide strip with leather glue and roll up evenly.
Step 16: Finally, glue the tassel and the pocket handle (Step 11) into the tassel caps. Fit split rings and carabiner on the side of the loops.



FINISHED! Use a contrasting zipper for a pop of contrast.