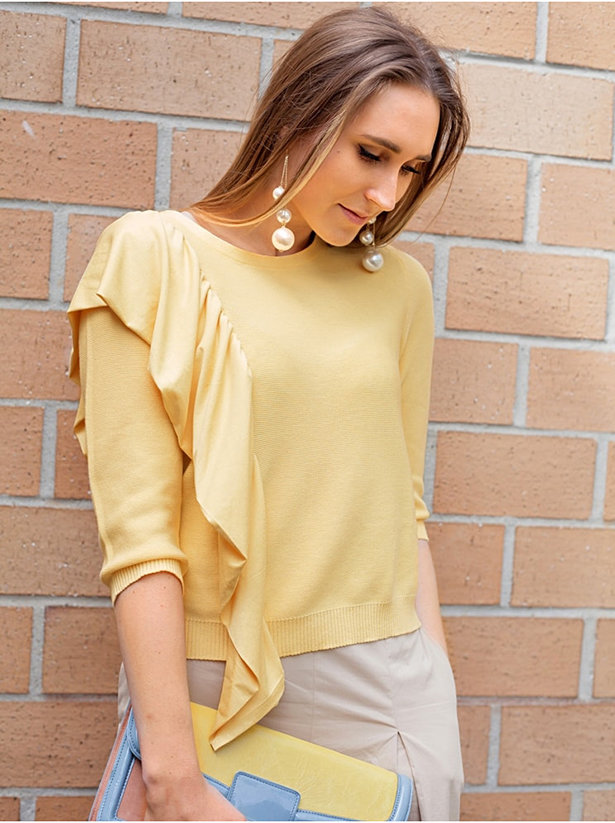 ShareThis
Blouses with asymmetric ruffles are the latest trend – sew one today! Read on to see how you can turn a basic into an elegant must-have in only 30 minutes.

Here is what you'll need:
+ Pullover (store bought or handmade, try this pattern)
+ Jersey fabric
+ Straight pins
+ Tape measure
+ Ruler
+ Chalk pencil
+ Point shaper
+ Scissors
+ Sewing thread

On one side of pullover, insert pins approx. 13 cm (5 1/4") from side seam and at centre of shoulder seam. Measure front and back lengths (approx. 110 cm / 44")



Cut ruffle. Length = measurement from Step 1 + 50 cm (20"); width = 32 cm (12 3/4")



Fold strip lengthwise, right side facing in. Stitch narrow edges closed with zigzag or overlock stitches, with 0.5 cm (3/16") wide seam allowances



Turn strip right side out. Form smooth edges and sharp corners.



Stitch two lines of machine basting (stitch length 5), 0.3 cm and 0.5 cm (1/8" and 3/16") from open edge.



Pull bobbin threads to evenly gather strip to match front and back length of the pullover (110 cm / 44"). Knot thread ends.



Pin ruffle to marked line (Step 1), right sides facing. Stitch ruffle in place, 1 cm (3/8") from edge. Turn ruffle over seam, toward the side and stitch 1 cm (3/8") from edge.



A ruffle in the same colour is very harmonious. For a more exciting or festive look, sew the ruffle from a contrasting colour, a print or a glittering sequin or lurex fabric!



Make this top completely from scratch and sew up our Knit Pullover pattern to add a ruffle to.


Happy DIYing!