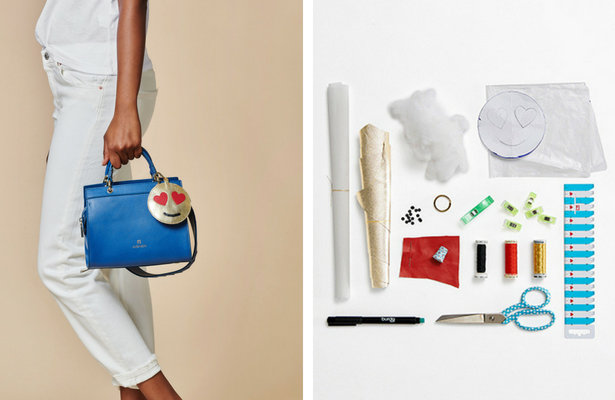 ShareThis
Give me a smile – good mood is guaranteed with this funny bag charm! Use up your scraps to sew this smiley purse friend that you can attach to any bag or purse and bring a smile wherever you go.

+ Leather in gold and red
+ Vliesofix (Vlieseline)
+ Thread
+ Sequins
+ Fiberfill
+ Copy film
+ Key ring
+ Clips
+ Scissors
+ Thimble
+ Hand Sewing Needle
+ Pen
+ Tracing paper for drafting



Step 1: On a piece of tracing paper draft your desired emoji size with expression. Trace out your outer circle template on the wrong side of the leather and cut out.
Step 2: Iron a piece of Vliesofix on the left side of the red leather and use your template to record and cut out the two shaped eyes.



Step 3: Transfer template to copy film. Iron the eyes to the correct position using the template. Use a pressing cloth.
Step 4: Sew up the two shaped-eyes all around with narrow edges and sew the ends well.



Step 5: Mark the position of the mouth with the copy film (Step 3) and sew the sequins by hand.
Step 6: Iron two pieces of leather (about 5 cm in length) with Vliesofix and cut a narrow strip (about 0.7 cm).



Step 7: Sew off the leather strips (5 × 0.7 cm) on both sides as narrow edges and then fold in the middle.
Step 8: Cut another piece of leather roughly and place wrong sides together with the emoji. Insert filling cotton and also place the center-folded tab at the top – use clips to secure edges and keep together. Then stitch around the circle edge carefully.



Step 9: Cut back the overlapping leather evenly (cautiously cut in at the top of the tab).
FINISHED! Thread key ring through the tab and attach to your bag. Need a bag to attach it to? Check out our bag patterns here!
Happy DIYing!